All too often I will open a can or box of stock or broth for a recipe that calls for just a couple of cups. The leftover can/box gets stuck in the fridge, shuffled to and fro as other items are retrieved, eventually getting (sadly) dumped down the sink. So what can you do with that leftover stock, even if there's just a wee cup remaining? Below are eight kitchen hacks (including one suprising home hack!) that you can actually do with that unused broth, courtesy of Swanson's test kitchen expert Sheila Miller.
Add New Flavors to Veggies (½ Cup - 1 Cup):
Make a few cups of quinoa or lentils and replace the water with broth (or a mixture of both), or cook up your "not so fresh" produce with that leftover 1 – 1 ½ cups of broth. Recipe: Salmon with Lentils, Bacon and Gordal Olives.


Freeze it Into Cubes or Pops (1 -2 Cups):
Take 1-2 standard ice trays (8 oz. each), fill them up (you can even add some finely diced fresh herbs!), and freeze them. Now you've got broth for that time you forgot to buy it and can't bring yourself to get back in the car.
• Add a few broth cubes to deglaze a pan after browning chicken or fish
• Elevate the flavor of your sauces without the hassle by combining a few broth cubes with meat drippings
• Use broth cubes to cool down hot soup without diluting it
• Add some cubes to a savory cocktail such as Bloody Mary
• Toss a cube or two to garnish a summery chilled gazpacho
• Create savory ice pops. Add some broth to other ice pop ingredients for a healthy summer treat! Try these Green Monster Ice Pops (shown below).
Create a Savory Breakfast (1 Cup):
Hellooo, savory oatmeal! Combine 1 cup of broth in your oatmeal instead of milk or water. Adding cheese is highly recommended.

Sip that Broth, Straight Up (1 Cup):
The latest trends point to drinking broth as a healthy way to warm up and soothe your woes without breaking the bank. From good belly health to achy bones, drinking broth offers some major nutrients and benefits that your tea just doesn't have. One cup of broth (warmed up) and you are officially in-the-know.


Give Classic Cocktails a New Edge (1 Tbsp. – 1 oz.):
As cocktail culture continues to evolve, sweet and savory culinary ingredients are finding their way into classic drinks. With just a splash of leftover broth, you can turn any spirit into a savory cocktail. Spice up a hot toddy, or enhance a boozy brunch Bloody Mary with as little as one tablespoon of Swanson, or as much as 2 oz. of the broth to create a whole new concept. Recipe: Smooth Bloody Mary

Cut the Fat, not the Flavor (½ Cup – 2 Cups):
Trying to be healthy but can't stand a salad without the dressing? No worries. Lighten up the fat by making dressing with broth instead of oil. Cravin' carbs? Lighten up your pasta recipe and try simpler pastas like linguine alfredo and replace the cream with broth.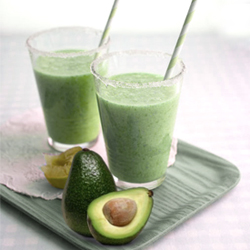 Start your Day with a Broth Smoothie or Smoothie Bowl (¼ Cup – ½ Cup):
A smoothie can be a great way to start your day and get in some nutrients before you get busy. Create a savory smoothie with avocado, kale and carrot, and replace a portion of the milk or juice with ¼ cup – ½ cup of broth. Packed with protein and other essential nutrients, you'll get even more from your daily smoothies. Recipe: Avocado Banana Smoothie (at right)

A Broth Air Freshener? Yes, it's a Thing!! (½ Cup):
If your home is taken over by an unwanted smell (ex: just cooked fish, too much garlic, forgot to take out the garbage), you can whip up a quick air freshener using just a few homemade items. Grab an apple and combine with cinnamon sticks and a bit of your leftover broth and bring to a light boil – the delicious aromas will permeate the home with a warm and welcoming smell that will combat even the foulest of smells.
Categories: