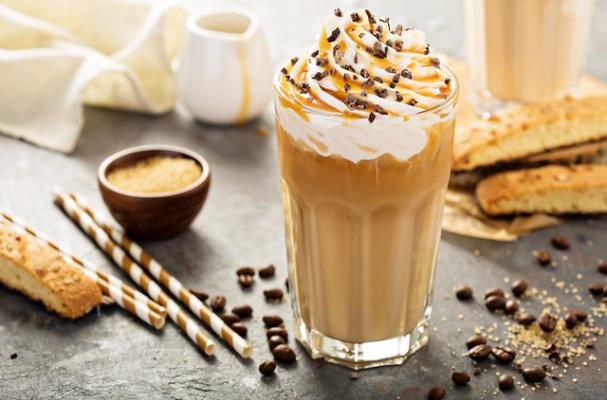 It's that time of year again. The leaves are changing, your kiddos are heading back to school and you desperately need something to fuel your mornings. As always, coffee is here to help. The following drinks are relatively simple to make and require very few ingredients so you can caffeinate faster and embrace the crazy days ahead.
Caramel Cold Brew Coffee by The Redhead Baker
Instagram @theredheadbaker
Are you looking for a simple coffee recipe to kickstart your busy morning? Try this caramel cold brew coffee. You only need three basic ingredients — two of which you probably already have — and a few minutes to throw this drink together. Make a pitcher on Sunday night and store in the fridge to enjoy your cold brew for up to two weeks.
Topo Pico Iced Coffee by Brit.com
Facebook @BritandCo
If you've never tried mixing sparkling water with cold brew, now's your chance. This bubbly beverage contains Topo Chico, a sparkling mineral water from Mexico, and, with just four other ingredients, it's super easy to make. After combining everything, use a cocktail shaker to mix things up and top with your Topo Chico. Ahhh. Refreshing.
Pumpkin Spice Latte by Iowa Girl Eats
Instagram @IowaGirlEats
Fall is here and, with it, comes the famous PSL. This tasty beverage will cost a pretty penny at Starbucks and threaten your bank account if you aren't careful. Luckily, this homemade version tastes just as delicious, and you don't even need an espresso machine to pull it off. Simply blend the ingredients until frothy, top with whip cream and serve.
Almond Joy Mocha by the Recipe Rebel
Instagram @thereciperebel
Got a sweet tooth? Instead of reaching for a donut, try this almond joy mocha. There's nothing better than a sippable candy bar for breakfast, right? Almond Breeze and coconut milk come together to create a creamy texture while the brewed coffee cuts the sweetness and kicks your morning into high gear. Top with whip cream and as many garnishes as your heart desires for a truly decadent drink.
How to Make Craft Coffee by Joe's Garage Coffee
If you've ever wanted to be a barista, try your hand at craft coffee. The process includes precise measurements and a little more effort on your part. However, if you dedicate yourself, the final product will be everything you could have asked for and more. Begin by roasting specialty beans in small batches and use a scale to measure ingredients accurately. Brew in style with a french press, percolator, or pour-over method. Add cream and sugar and voila! Craft coffee.
Nutritious Delicious Breakfast Frappucino by Kim's Cravings
Instagram @KimsCravings
Some mornings are so busy that making full breakfast spread simply isn't an option. On these days, opt to make this nutritious, delicious breakfast frappe. It contains bananas, oats, spinach and more for a well-rounded breakfast on the go. Plus, all you have to do is toss everything in a blender and serve. Just remember, this yummy frappe does contain caffeine so, if you plan on sharing it with the kids, send up a quick prayer for their teachers.
Coffee Protein Shake by Southern Parm
Instagram @SouthernParm
Wake up your brain and fuel your day with a coffee protein shake. This beverage is the perfect morning blend if you love to hit the gym after dropping off the kiddos. Plus, it contains little to no sugar and will fill you up and satisfy cravings until lunchtime. Combine the three ingredients in a blender and enjoy — whether you make it to the gym or not.
Toasted Coconut Shakerato by Simply Whisked
Instagram @SimplyWhisked
If Starbucks' coconut cold brew is calling your name, this toasted Italian spin on the classic drink is the perfect substitute. This recipe walks you through how to make toasted coconut syrup as well as the mouthwatering shakerato itself. Don't worry — it's easier than you might think. In just 20 minutes, you can make drinks for you and a friend and have leftover simple syrup for later.
Dalgona Coffee (aka Whipped Coffee) by Jessica in the Kitchen
Instagram @JessicaintheKitchen
Dalgona coffee — or whipped coffee — has been trending for some time now and, if you haven't already tried it, you're totally missing out. This satisfyingly creamy beverage only requires three ingredients and it's insanely customizable. Want a low-calorie version? Substitute coconut sugar for cane sugar. Are you lactose intolerant? Use plant-based milk, instead. You can even make the beverage hot or cold, depending on what mood you're in.
Cinnamon Latte by Folgers Coffee
Fall is the perfect time for all things cinnamon — including this cinnamon latte. This particular recipe calls for Folgers coffee, but your favorite brand will taste just as delicious. Gather the five other ingredients, heat the milk and brew the coffee. Then, combine everything into a mug and serve. Don't forget to add whipped cream, caramel drizzle and cinnamon on top!
Get Creative
You can't really go wrong when making specialty coffee, especially if you already have milk, sugar and coffee. As you try different recipes, take some creative liberties. Substitute ingredients, add more flavors and experiment with hot and iced variations. You may just surprise yourself and create a new favorite coffee drink.
Categories: