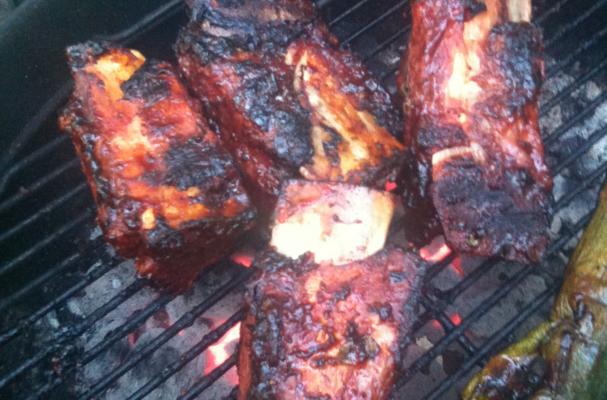 There's really no substitute from a flavor perspective when cooking food over natural wood charcoal. My old Weber grill is a testament to using good equipment to cook simple foods that speak of their place. My friend Hunter called it farm to stomach eating. I like that phrase. Farm to table? Farm to wholesaler to refrigerator to supermarket to where? When you shop in an old-fashioned butcher shop or go to a farmer's market, you can be pretty sure of the origin of the food. I like to know about this.
I've never owned a gas grill of any kind for cooking outdoors. Sure we have a nice gas stove in the kitchen. But outside, beside an ancient stone wall sits the Weber grill. It's not pretty, and is it not made of gleeming stainless steel. It doesn't have massive red knobs on it to regulate the heat. It doesn't have ceramic coals in its belly. What it does have is a history of flavor encapsulated within the walls of stamped and formed steel. It's not very handsome but when the air flows from the bottom of the grill around the food in a convection motion, culinary magic takes place.
The Weber grill needs a fire to be built in a very specific manner. First of all you never build a fire in the middle of a Weber. Always on one side or another. That is the basis of the convection motion. Next, regulate the amount of air that enters the bottom of the grill by closing down the vents in the top of the Weber grill.
I buy our steaks from a butcher shop in Morristown, NJ named Hoeffner's.
These chunks of meat are Prime Beef Short Ribs. I grill them over natural wood charcoal for about an hour and a half or until they are charred and crunchy on the outside. They are only cooked over the direct flame until a nice char shows up. Then they are moved to the back of the grill away from the heat. The top of the Weber is closed to create a seal and the vents on top closed down by 1/2-3/4.
Get yourself a cocktail and sit down in that chair over there and be patient. Please don't open the lid or move the short ribs around with a fork. They'll be ok and should cook slowly for about two hours. You might have to add some more charcoal from time to time.
Usually around this time I find myself craving a cocktail. One of these drinks has stuck in my mind since the Tales of the Cocktail a few short weeks ago.
It's a simple drink named a mint julep. It's cooling to your throat while the aroma of your short ribs circles up inside your nasal passages. If you're lucky, someone in your family or maybe you have a sterling silver, copper core Julep Cup.
The last time I was in New Orleans was back in the early 90's. I bought two antique cups and have treasured them ever since. I use them in the photography so you can see what happens when you make a Mint Julep on a steamy day.
How do you make a Mint Julep?
First, you have to find mint so pure that the scent of it sticks to your fingers for hours. I prefer Kentucky Spearmint for my Juleps. I also prefer Rye Whisky for my Julep. The reason I like Rye is because of the nature of the spirit itself. It's just spicier in the cup. Rye stands up to ice, mint and sugar better too. If you can find some 90 Proof Rye Whisky you'll enjoy this cocktail all the more.
Take that silver cup you have on top of your bar and add a good shake (about a tablespoon) of sugar in the raw. I like this product because of the deep flavor and crunchy texture. When you muddle mint (a few well washed pieces without too much stem) and sugar together the fragrant oils rise up out of the Julep Cup. Add a bit of ice and continue to muddle the mint and sugar. You'll notice that the cup is starting to frost up. This is good.
I like to use an old ice crusher for the task of crushing ice. Make sure your ice is made with good water. You wouldn't want your ice to be tainted by that garlic aroma would you? Continue to muddle the mint, sugar and ice. Introduce about two shots of the best Rye you can find. I suggest using either Bulleit Rye for a sharper more tobacco laden, peppery finish, or another of my favorites, the Hudson Manhattan Rye from Tuthilltown Distillers in Gardiner, NY. The Manhattan Rye is delicious in another cocktail that I call the Zombie Root Carousel.
Continue to add ice, a bit more Rye Whisky and muddle away. When the drink is filled to the top you can sample for sweetness. The frozen Julep Cup will stick to your fingers and when you lick the condensation off them, you will taste the refreshing qualities of the mint. It's an umami moment in your own Whisky history.
Sit in that chair over there, relax and enjoy your cocktail. Wait for the meat to be done and let rest for at least ten minutes under foil before slicing and serving, enjoying, and remembering.
All photography by Warren Bobrow using the Leica DLux-4.