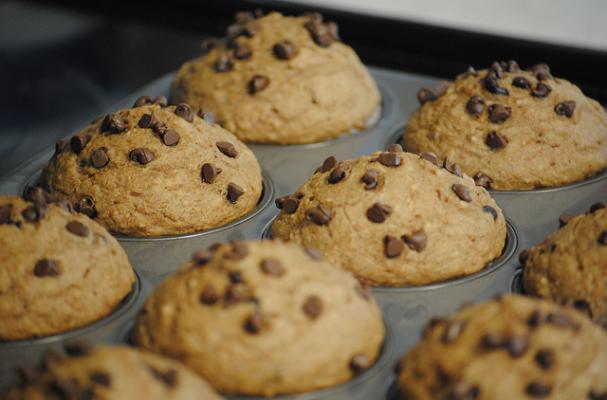 If you are gluten-free or not, you'll love these banana chocolate chip muffins. Chocolate and banana are a natural pair- anything with those two flavors will be absolutely delicious. Enjoy these muffins for breakfast or as a wonderful homemade snack. Gluten-free banana chocolate chip muffins should make it on your list of things to do this Sunday.
Gluten-Free Banana Chocolate Chip Muffins
Ingredients:
1 3/4 cups light flour blend (see below)
1/2 cup sugar
2 Tbsp baking powder
1/2 tsp salt
1/2 cup chocolate chips
2 eggs
1/4 cup oil
1/4 cup milk
1 cup mashed ripe banana (about 3 medium)
Directions:
Mash banana in a bowl and mix with all wet ingredients.
Mix dry ingredients together and add them to the wet ingredients.
Mix and spoon into muffin paper lined muffin tins. Do not fill above the edge of the paper. If you need more space, you can put a muffin paper into a small ramekin or 2.
Bake at 375 F for 15-20 minutes.
Let Muffins cool in tins for 5 minutes then transfer to a wire rack or flip them sideways in the muffin tin.
Once cool, store in a ziplock bag in the freezer to keep fresh. Microwave from frozen (do not let it thaw at room temperature) for 20-30 seconds.
Light Flour Blend
Recipe from The Brighter Side of Gluten-Free
2 1/2 cups Rice Flour (can use 1/2 brown rice flour - healthier but a bit gritty in texture)
1 cup Tapioca Starch (or flour - same thing)
1 cup Millet Flour (or Bajra Flour - part rice flour) (or sorghum flour) (or light buckwheat flour)
1/2 cup Lentil Flour (adds fiber and protein, but can be omitted or try substituting other bean or pea flour)
1/4 cup Potato Flour (not starch! - much different) (helps to absorb liquid. can be omitted, but use a little extra flour in the recipes to make up for it. I would suggest adding 1 Tbsp extra per cup used)
Image Sources:
Want more from Foodista? Sign up below!