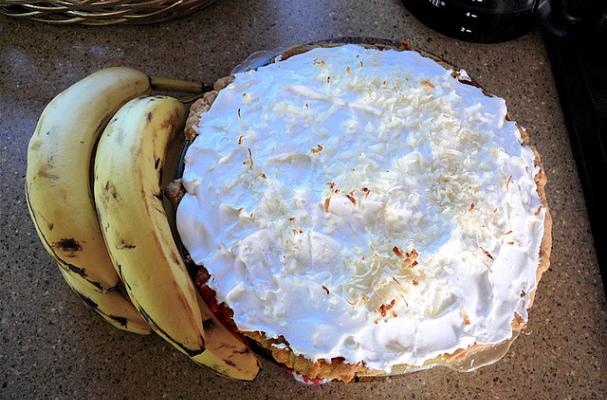 Banana cream pie is a homey dessert that can be served year round. When the apples have gone, the oranges have withered, and the peaches fallen- you can always count on finding a bunch of inexpensive bananas at the grocery store. This recipe makes every element from scratch (which in my opinion makes for the most delicious desserts). If you are planning to make banana cream pie, there is some patience involved- it needs to cool and set for at least 8 hours. This means you'll have to wake up early if you want to serve it the same day. Banana cream pie is a sweet treat that will bring a smile to anyone's face.
Ingredients:
Crust:
In a small bowl, mix together;
3 tablespoons cornstarch
Preparation
This should be made at least a day before you plan to
serve
it, so the custard has time to firm up.
For the Crust:In a small bowl,
mix
together, graham cracker crumbs, sugar, and melted butter in a bowl. It should resemble wet sand. Press the
graham cracker
mixture into
the pie
pan on the bottom and on the sides. Bake for 10 minutes, or until a light golden brown. Remove and cool
For the Custard: In a bowl, beat egg yolks. Add sugar, cornstarch, salt and stir. Add milk and blend well. Transfer mixture a saucepan over medium heat and stir. After a minute or so, add the butter.
Stir
until the butter
melts
and the custard starts to bubble and
thicken
. Cook for 5 minutes or so, being careful not to over cook (and curdle). Remove the pan from the
heat
and add vanilla,
mixing
well.Transfer the custard to a bowl, covering with plastic
wrap
(to eliminate the chance of a thick skin forming) and
refrigerate
for at least 2 hours.
Take the pie pan with the graham cracker crumb crust. Arrange all of the banana
slices,
evenly around the pie crust. Spread the custard filling evenly over pie. Cover with plastic
wrap
and
refrigerate
for at least 6 hours or over night
Wilton has the coolest decorative
baking
accouterments. You
can
buy decorative tips for
frosting
at your local craft
store
and pastry bags too. However, a Zip-loc baggie works just fine as well. Using a scissors, snip off a corner of your bag and insert your decorative tip of choice, securing a tight fit. Fill the bag with the reserved
whipped
cream.
Image Sources: