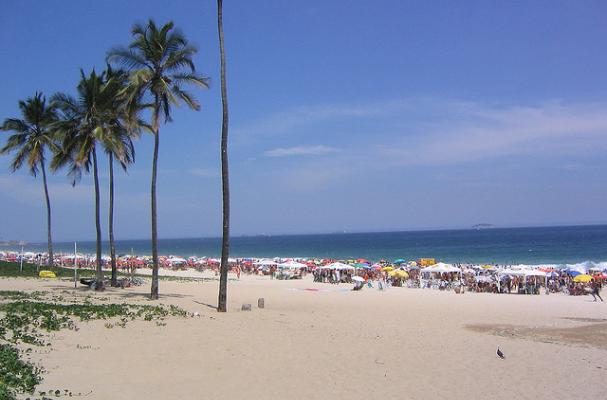 Recently I tried an assortment of wines from Brazil and, surprisingly, ended up most captivated by a sparkling red Moscato. (OK, to me it looks more like a sparkling rosé, but I'm done quibbling here.) While attending a conference full of exacting wine bloggers sponsored by Snooth, the Carnaval Moscato Red was an unexpected highlight of three days of tasting wines from around the world morning, noon, and night. (Let it never be said that wine blogging is not a lot of work.)
The Carnaval is a fizzy, fruity, fresh, and sweet delight. Low in alcohol, it's the perfect breakfast wine. Or a wine to enjoy on a beach, say, in Brazil, under the comfort of an umbrella. And while, yes, I do like to taste (and drink) the fanciest of the fancy, the legendary and serious, the highly intellectual, curiosity-provoking wines of the world, sometimes it's nice to have something in your glass that is just FUN.
But if you can't make it to Carnaval or a Brazilian beach, do not despair. (OK, despair a little.) Try enjoying the Carnaval Moscato Red with any berry-based dessert or sorbet.
Or, if the size of your dinner has left you pushing away the dessert menu, you've always got room for a glass of sweet sparkling rosé, right?
Image Sources:
Categories: