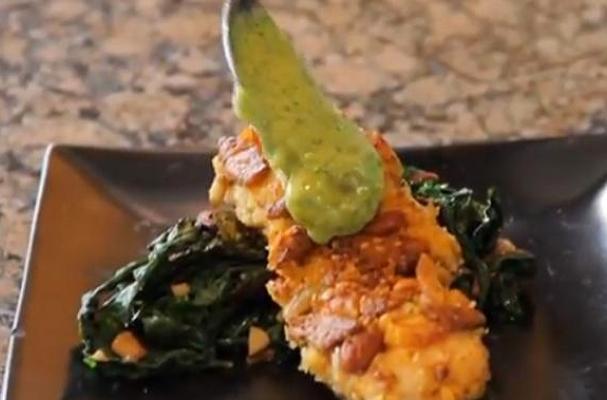 Last fall, Tropical Foods had its Flavors of the Fall Recipe Contest with the culinary students at the Charlotte Campus of Johnson & Wales University. This recipe, from student Dominic Towe, was the Grand Prize Winner. Watch as Mary Cowx from FerventFoodie.com prepares Dominic's recipe featuring Tropical Food's Mexicali Fire Snack Mix and get the recipe below.
Mexicali Grouper with Chorizo Grits, Rainbow Chard and Avocado Aioli
Serves 4
Grouper:
2 cups Tropical Food's Mexicali Fire Snack Mix
1 cup panko bread crumbs
4 black grouper steaks (about 1 lb total)
2 tsp dried parsley
4 oz. Wondra instant flour
1 tsp onion powder
1 tsp garlic powder
1 cup whole milk
3 large eggs
2 tbsp Old Bay seasoning
Chorizo Stone Ground Grits:
1 cup stone ground grits
4 cups vegetable stock
10 ounces chorizo sausage, removed from casing
4 oz mozzarella cheese
4 oz cheddar cheese
2 oz Wondra instant flour
1 oz garlic, minced
2 oz red onion, diced
2 oz green onion, diced
2 oz celery, chopped
Rainbow Chard:
8 oz rainbow chard
2 cloves garlic
Salt and pepper to taste
Avocado Aioli:
3-4 cloves garlic
1 ripe avocado
9 egg yolks
4 oz olive oil
2 oz cilantro
1/2 red onion
1/2 bunch fresh parsley
Salt and pepper to taste
Want more from Foodista? Sign up below!