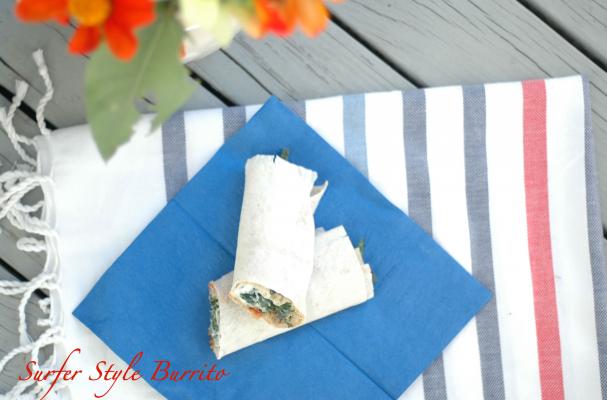 This Surfer Style Burrito is light, fresh and celebrates a few of the things I love most about summer in the Hamptons - including lots of fresh farm stand food. It also contains a slightly unexpected burrito ingredient or two. In this case nutty quinoa stands in for a traditional serving of brown rice, black lentils take the place of black beans and a good spoonful of parsley pesto adds a flavorful twist. In the end, I chose to pull everything together in a warm tortilla wrap with some classic finishes including a good chunky salsa and just a touch of good sour cream.
Surfer Style Burrito
I usually like to serve this burrito tucked into a warm brown rice wrap, but the burrito fixings are equally delicious served on top of a bed of crunchy romaine lettuce with a few diced Kalamata olives.

Serving Size: 4 wraps (470 calories each, including a brown rice tortilla)
Ingredients
1 cup Tuscan kale (5-6 leaves)
1 cup quinoa, dry
1/4 cup black lentils, dry
4 tablespoons chunky salsa
4 tablespoons good sour cream
1/4 cup parsley pesto or good pesto of your choice
4 brown rice tortilla wraps (I like these)
few tablespoons good olive oil
Better-for-you ingredients
Learn more about the better-for-you ingredients in this recipe:
Quinoa – Quinoa (KEEN-wah) is actually not a grain but a type of seed. It provides a complete protein, making it a popular staple in veggie-focused diets. Quinoa contains ~6 grams of protein per 1/4 cup serving. Health beauties often swap in quinoa for rice in many recipes.

Kale – Kale is a nutritional superstar and a health beauty favorite in our quest for radiant skin. It is full of antioxidant and anti-inflammatory benefits that help your body to stay vibrant and youthful.

Directions
Prepare the quinoa and the lentils.....

Bring water to a boil in a covered pot. Add the quinoa, cover, and lower the heat until it is just enough to maintain a simmer. Let simmer for 10-12 minutes. Then turn off the heat, remove pot from burner. Fluff with a fork, cover and let stand for 5 minutes.
Meanwhile prepare the lentils by combining 1/4 cup dry lentils with 1 cup water in a small pot. Bring water to a boil, lower the heat until it is just enough to maintain a simmer. Let simmer for 20 minutes. Then turn off the heat and drain the lentils. Set aside.
Meanwhile, prepare the kale…

Then prepare the kale. Remove the stems and slice the kale leaves into long, thin ribbons. Drizzle with one tablespoon of olive oil, and using your hands, rub the olive oil into the kale leaves; Make sure all the kale ribbons are well coated. (Looking for a little more visual love? Head over here!) Toss with a dash of salt and pepper, set aside.
Assemble your burritos!

If you have the time and ambition, warm the burritos prior to serving in a large skillet with a touch of butter or olive oil. Then to assemble the burritos, add a tablespoon of parsley pesto to each burrito. Evenly divide quinoa, lentils and kale among tortillas. Add a touch of salsa and sour cream. Roll the burritos up, tucking in ends. Slice the burritos in half to serve!
Categories: