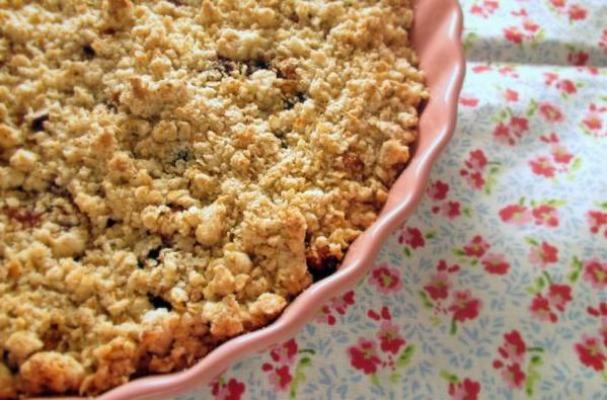 Summer's end is near, but the best part of this time of year are the berries. While I curse the invasive vines that inevitably creep up in my garden, I rejoice in the bounty of blackberries we're still picking in the wild. We recently dined at the famous Four Swallows restaurant on Bainbridge Island here in Washington and ended the meal with their Blackberry Slump, an award-winning dessert that was featured in Saveur magazine (recipe below). That dessert got me thinking: what's the difference between a slump and a grunt (turns out they're the same), a crisp, a buckle, a betty, a crumble, a cobbler, and a clafoutis? Boy, did I get an education! Learn more about each of these classic desserts below, all of which feature plump and delicious summer berries.
Blackberry Peach Betty
Dunkin' Cooking the Semi-Homemade Way
This baked dessert dates back to colonial days and is typically made with apples (Apple Betty or Apple Brown Betty). It's topped with butter bread crumbs and often has layers of crumbs between the fruit.

Blackberry Slump
From the Four Swallows
This dessert is cooked stove top as opposed to in the oven. It's also called a grunt, as the biscuit-topped fruit makes a grunting sound as it simmers.

Peach and Blueberry Crisp
A Feast for the Eyes
The topping of a crisp generally covers the entire dish and contains a combination of oatmeal (or some type of cereal), flour and sometimes nuts. A crisp is also sometimes referred to as a crumble.

Triple Berry Crumble
Me and My Sweets
You say tomato, I say tomahto. In Britain they call it a crumble, we call it a crisp. Otherwise it's the same thing.

Blueberry Nectarine Cobbler
Cobblers typically have a thick biscuit batter or pie-like crust that can be cut into rounds (cobbles), placed on top in a single layer, or dropped in spoonfuls if more batter-like. Cobblers were originally made with pie dough.

Classic Blueberry Buckle
Mangia, Figlie
As if things weren't already confusing, a buckle is also sometimes referred to as a crumble. The main difference being a buckle is most commonly made with blueberries. The streusel topping on this cake-like dessert makes the top look buckled.

Berry Clafoutis
This French country dessert (sometimes spelled clafouti) is most commonly made with cherries. The fruit is arranged in a buttered dish and covered with a thick cake-like batter then baked. As it bakes, the fruit pops up through the batter. To serve, dust with powered sugar and serve warm not hot.

Categories: