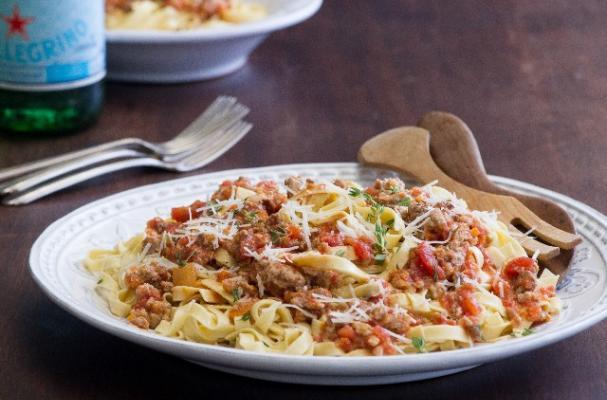 Our faithful slow cooker has officially made its home on the kitchen counter. I love to cook, but it's wonderful to dump a few ingredients into the pot, flip the switch on, and come home after a long day to a ready-cooked meal. It's almost like having a personal chef! We have a Ninja Cooking System, which I highly recommend (and well worth the money) as it has a stovetop setting for searing/browning meats and a slow cook setting. You can even bake in it! (No, they did not pay me for that endorsement). Below are some of my favorite slow cooker recipes like Beef Stroganoff, Coq au Vin, Chicken and Dumplings, even an amazing Bolognese Sauce!
Read on for more delicious slow cooker recipes and be sure to check out our Slow Cooker Pinterest board for even more!
Best Slow Cooker Beef Stroganoff
Photo: sergeant killjoy
Slow Cooker Pork and Garbanzo Beans
Jennifer Hancox

Slow Cooker Bolognese Sauce
Nestle

Coq au Vin - Slow Cooker Method
Diethood

Slow Cooker Lamb Curry
Mommie Cooks

Kicked Up Slow Cooker Chili
Mommie Cooks

Super Easy Crockpot Chicken and Dumplings

No Fuss Sunday Slow-Cooker Balsamic Pot Roast
Part Time Housewife

Easy Slow Cooker Artichoke Garlic Chicken
Part Time Housewife

Categories:
Want more from Foodista? Sign up below!