No bake pumpkin cheesecakes from Cooking Classy are an impromptu fall dessert. These cheesecakes are light and airy, with a texture more similar to a mousse. Instead of a traditional graham cracker crust, crushed Biscoff cookies are layered on the bottom. Their spiced flavor pairs perfectly with the pumpkin. For a finishing touch, homemade caramel sauce is drizzled over top. The ingredients you'll need for 16 servings are:
16 Biscoff cookies , finely crushed
2 Tbsp butter , melted
1 2/3 cup heavy cream , divided
8 oz cream cheese (cold)
2 Tbsp caramel sauce , plus more for topping, recipe follows
6 Tbsp packed light-brown sugar
1/2 tsp vanilla extract
1/2 tsp ground cinnamon
1/4 tsp ground nutmeg
1/4 tsp ground ginger
1 pinch ground cloves
1 cup canned pumpkin puree , chilled
Flaked or coarse sea salt (optional)
Check out some of our popular Dessert Recipes below: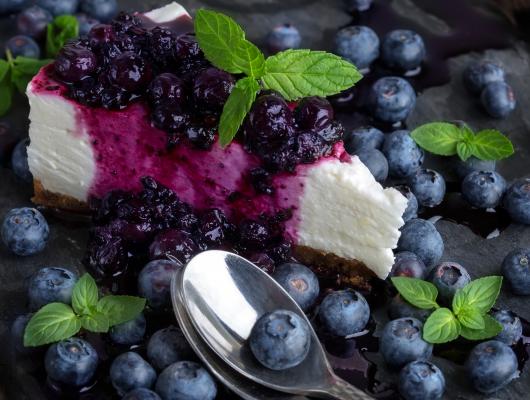 No Bake Sugar Free Blueberry Cheesecake
Contributed to Foodista by The Healthy Recipes
1 1/2 cup or 350 grams fat-free cream cheese (or low-fat or regular cream cheese) (softened)
1 1/2 cup or 300 low-fat milliliters whipping cream (or regular whipping cream)
2 cups or 200 grams fresh or frozen blueberries
150 grams sugar-free digestive biscuits (or any other type of biscuits or cookies)
1/2 cup or 100 grams melted low-fat grass fed cow butter or melted extra virgin coconut oil
50 grams + 2 tablespoons powdered stevia (or other powdered calorie-free sweetener)
2 teaspoons fresh lemon juice (or apple cider vinegar)
zest from 1 lemon
1 teaspoon vanilla extract
For the vegan cream cheese
1 cup raw unsalted cashew nuts (soaked in water for one night)
1/4 cup water
3 tablespoons raw honey,natural maple syrup or raw agave nectar
1 teaspoon vanilla extract
juice from 1/2 fresh lemon
1 pinch Himalayan,sea or table salt
1/3 cup melted extra virgin coconut oil
No Bake Strawberry Shortcake
Contributed to Foodista by MyGreekitchen
1 box of vanilla instant pudding
1/2 cup strawberry juice
1 1/2 cups nonfat milk
1 tsp vanilla extract
24 Savoiardi. Lady Fingers
220 g (about 1 cup) Whipped cream, chilled
1 pound fresh strawberries, hulled and sliced and patted dry
White Chocolate Cheesecake with Raspberries
Contributed to Foodista by RockRecipes.com
1 1/3 cups graham wafer crumbs
3 tablespoons sugar
1/3 cup melted butter
1/3 cup whipping cream
1 cup good quality white chocolate chips
3 ounces eight packages ounces cream cheese
1/2 cup sugar
3 eggs
3 teaspoons vanilla extract
1 cup whipping cream
2 pints fresh raspberries
Image Sources:
Want more from Foodista? Sign up below!