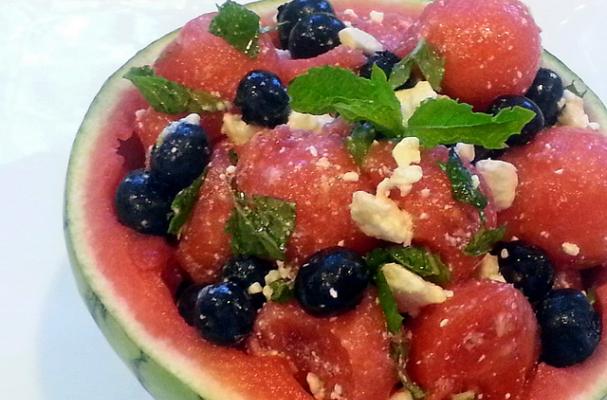 A good fruit or mint-infused oil can jazz up any fruit salad, like this Minty Watermelon and Blueberry Salad with Feta. Fresh mint and mint-infused oil add a pop of bright flavor, and the salty tang of feta balances the sweetness of the fruit. Mint-infused oil is different than mint oil or extract used in baking. Look for this specialty oil and other delicious flavored oils next to oils and vinegar in your supermarket. Flavored oils go a long way and add depth to a myriad of dishes. If you can't find a mint-infused oil for this dish, simply add a bit more fresh mint. You can also use ricotta salata, a lightly salty and crumbly Italian sheep's milk cheese, in lieu of feta.
Minty Watermelon and Blueberry Salad with Feta
Note: Serving this salad out of the watermelon makes for a beautiful presentation (and you won't dirty a salad bowl!) so look for a melon with minimal scarring on the outside.
1 small seedless watermelon, peeled and cut into cubes or scooped into balls
1 pint blueberries
A handful of fresh mint, chopped
Mint-infused oil, to taste
1/2 cup crumbled feta cheese, or to taste
Orange Muscat Champagne Vinegar, to taste (we use Trader Joe's variety here)
Carefully cut the watermelon in half, then slice a bit off the bottom of each half so that the "bowl" stays put on a plate.
Using a melon baller, scoop out the flesh of the watermelon and place balls in a large bowl.
Add blueberries, fresh mint, and feta to bowl.
Drizzle with mint oil and orange muscat champagne vinegar. Stir until combined. Taste and adjust oil and vinegar seasoning if necessary.
Carefully spoon salad into each melon bowl. Garnish each bowl with a sprig of mint and chill or serve immediately.