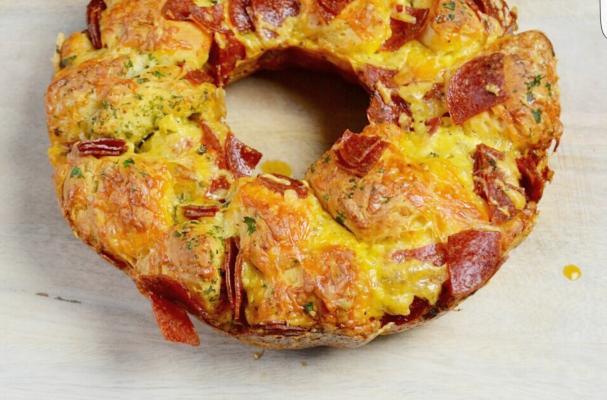 It's surprising how many delicious things start with a can of biscuits. If you want to have a quick and easy pizza-flavored appetizer for your Super Bowl bash, check out this Pull Apart Pizza recipe from Foodista contributor,
Tamara Coleman.
The Pillsbury Grands biscuits start the party, and classic pizza ingredients make it a winner.
Pull Apart Pizza Ring
1 Can of Pillsbury Grand Biscuits
1 6oz Package of Pepperoni
2 Cups of Cheddar Cheese Shredded
1 Cup of Parmesan Shredded
1/3 Cup of Fresh Chopped Parsley
1-2 Garlic Cloves Minced
2 tbsp of Olive Oil
1tbsp of Italian Seasoning.
To Prepare:
1 Preheat oven to 350 degrees.
2 Cut each biscuit into quarters.
3 Shred the cheese.
4 Chop the parsley.
5 Mince the garlic.
6 Add the Italian seasoning.
7 Add everything to a bowl with your olive oil and mix well so each biscuit is coated.
8 Place in bundt pan and pop in the oven.
9 Bake until the biscuits are golden brown and cooked through the center.
10 Flip upside down on a plate and serve.
I make this in a 13 X 9 inch cake pan with great results. If you double the number of cans and it fills the pan and makes enough for the whole family's main dish. For a fun snack, try this recipe and place a few into muffin tins. Then after baking, wrap them separately and freeze. They make a great after school snack.
Finally, once you fall in love with this tasty recipe, Tamara also shared a delicious dessert made from the same biscuits. You have to try it!
1 Can Pillsbury Biscuits (10 per can)
1/2 Cup Pecan Chips
1/2 Cup Butter
1/3 Cup Brown Sugar
2 tbsp of Water
Bundt Pan
Image Sources:
Categories: