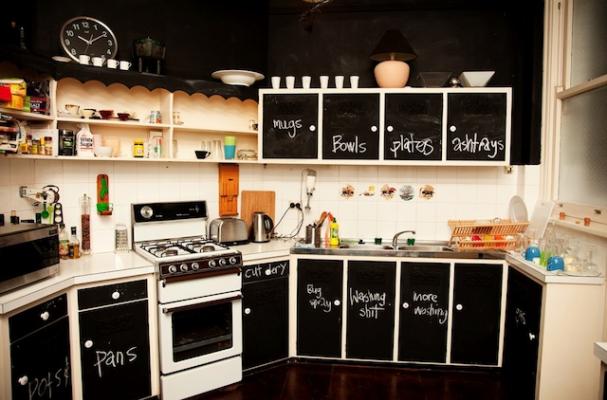 Chalkboard paint is easily identified as one of the most popular design trends these days. Almost any flat surface can be coated in chalkboard paint - the perfect blank canvas for messages, artwork, grocery lists and more. You can buy several different brands, including spray paint (like Rust-Oleum). Not a fan of the black look? You can always make your own chalk board paint in any color!
Chalkboard Cabinets
Have a problem staying organized? Paint your cabinet doors with chalkboard paint and label the heck out of it! (Seen above.)
Chalkboard Grocery List
Throw some chalkboard paint on your wall and have an easy access and hard to miss grocery list! (Scroll down for image)
Chalkboard Decals
With a Rococo style frame, this chalboard is made for your fridge! Leave notes and messages, dinner ideas, shopping lists and more.
Lunchbox Chalkboard
Paint the inside of your kids' lunchboxes with chalkboard paint and leave them messages. How sweet!
Chalkboard Placemats
You can purchase or DIY this idea that makes seating charts a breeze.
Image Sources:
Categories: