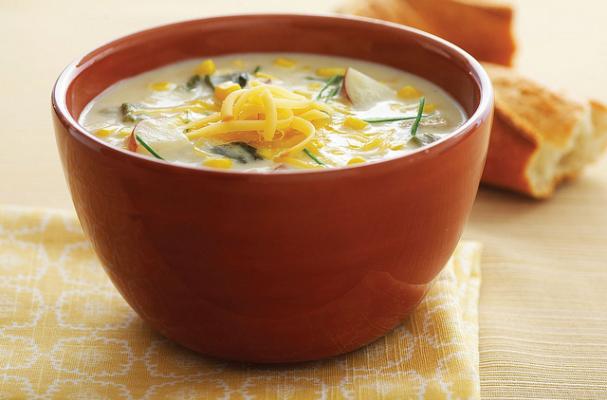 I love a good soup. Who doesn't?! In the Summer, I'm always whipping up batches of chilled soups like gazpacho or cucumber melon, but come Fall I yearn for a warm comforting bowl of chili or creamy broccoli cheddar soup.
In her fabulous new cookbook, 50 Simple Soups for the Slow Cooker, author Lynn Alley celebrates the beauty and simplicity of soups from classics like Ribollita and French Onion to more unique ones, such as Garnet Yam and Spiced Apple Pie Soup (both perfect for the holidays!). Best of all, they're all done in your slow cooker! Her all-new collection of vegan and vegetarian recipes are easy on the planet, the palate, and the pocketbook. I know you'll love what's in this book.
Happy Autumn!
Black Bean Chili with Cornbread Crust
Lynn says, "This is not your ordinary chili but reflects the rich combinations of ingredients found in real Mexican cuisine. You might even think of it as a bean mole, since it combines many of the spices and ingredients, including both chile powder and cocoa powder, usually found in mole poblano."
Corn Chowder with Potatoes, Poblanos, and Smoked Gouda
Lynn makes this soup with smoked salt and smoked Gouda in lieu of smoked bacon. The potatoes and poblano peppers add texture and a delicious depth of flavor.
Tuscan White Bean Soup with Olive Oil and Rosemary
A classic and Italian soup made with a few simple ingredients. It's one of my favorites on a cool night, especially with a nice rustic bread.
Roasted Red Pepper Soup with Basil Chiffonade
This is one of those soups that is best the day after it's made as the flavor of the peppers deepen.
Pasta e Fagioli
Meaning "pasta and beans," this is another rustic Italian favorite, and like minestrone and ribollita, its contents may vary from season to season, region to region, and cook to cook.
A taste of what else is in this delicious book:
Enchilada Soup
Cauliflower, Stilton, and Fines Herbes Soup
Curried Butternut Squash Soup
Spiced Spinach Dal with Coconut
Milk White Miso Winter Soup