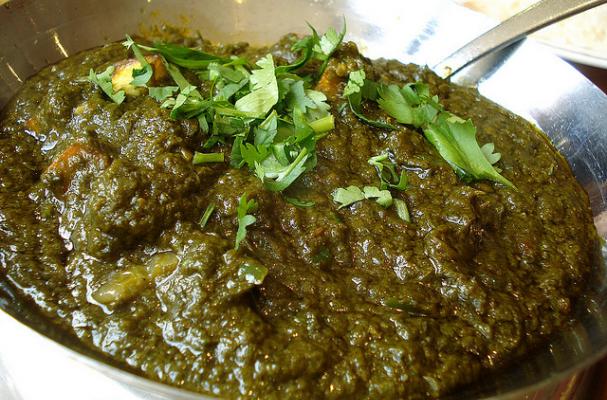 Saag paneer is a delicious Indian vegetable dish made with spinach, mustard greens, and paneer (Indian cheese). This wonderful dish is smooth, creamy, and full of warm spices. Serve saag paneer with fragrant basmati rice and fresh naan. Try something new this Meatless Monday and make saag paneer.
Saag Paneer
Recipe from Blazing Hot Wok
4 tbs ghee or 2 tbs mustard oil + 2 tbs vegetable oil (optional)
green chilies (use as many or as little as you want), split lengthwise (remove seeds for less heat)
1 onion, grated or finely chopped
1 tsp fenugreek seeds
2 x 3-inch stick cinnamon
5 cardamom pods
5 whole cloves
4 cloves garlic, minced
1 ½ tbs grated ginger
1 tsp ground cumin
1 tsp ground coriander
1 tbs tomato paste
2 frozen packages chopped spinach, thawed and liquid squeezed out
1 bunch kale or mustard greens, de-stalked and chopped
1/3 cup heavy cream (optional)
1 portion paneer, cubed (either homemade or store-bought is fine)
salt to taste
For recipe directions, click here.
Image Sources:
Categories: