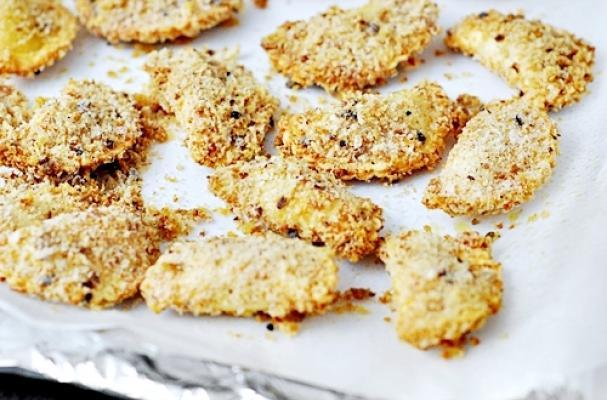 Toasted ravioli is a unique and unexpected way to serve up this filled pasta. For Meatless Monday, I recommend using vegetarian ravioli like four cheese or sun dried tomato. Each fresh ravioli is coated in breadcrumbs and then baked in a 350 degree until golden brown. A trick to crisp both sides of the ravioli is to leave the cookie sheet in the oven while it's preheating. Serve these toasted ravioli with marinara sauce for dipping or on top of greens for a salad. Toasted ravioli is a versatile dish that will win the appetites of your family and friends.
Ingredients:
1/3 packet of 375g (13 oz) pre-made fresh agnolotti/ravioli
1 egg
1.5 cup breadcrumbs
Directions:
Preheat oven to 180 degrees Celsius (350 F) for a fan-forced oven or 200 degrees Celsius (392 F) for a convection oven.
Line a baking tray with baking paper.
Spray a thin layer of olive oil (any oil of your choice will do) on the baking paper. Set aside.
Crack and beat an egg on a plate. On a separate plate add breadcrumbs.
Dip agnolotti in the beaten egg first.
Then coat it with breadcrumbs. Repeat step 5 and 6 with the remaining agnolotti until egg and breadcrumbs are finished.
Place the crumbed agnolotti onto a baking tray. Once you've completed step 5 and 6, spray another thin layer of oil over the crumbed aganolotti. Bake the crumbed agnolotti for 25 minutes or until golden brown.
Serve immediately with pasta sauce or ketchup.
Image Sources:
Categories: