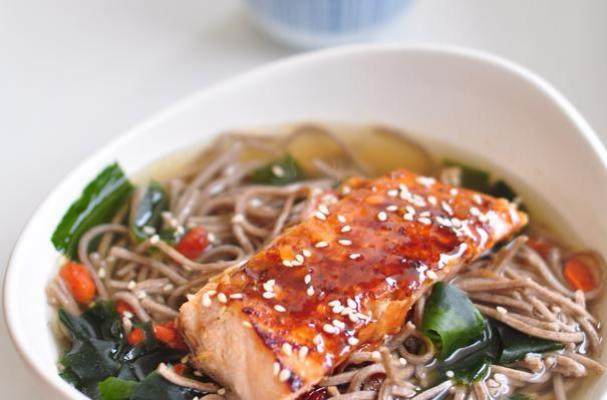 Soba noodles with teriyaki salmon is a delicious Japanese dinner that can be made any night of the week. Soba noodles are made from buckwheat flour and are gluten-free. They can be enjoyed cold in a salad or warm in a soup, as it is served here. The salmon filets are marinated in teriyaki sauce made with sake, soy sauce, mirin (rice wine) and sugar. If you have bottled teriyaki sauce on hand, feel free to use that instead. If you are not a fan of fish, this recipe can easily be applied to tofu or chicken. Soba noodles with teriyaki salmon is a nice change from your routine dinner dishes.
Soba Noodles with Teriyaki Salmon
Ingredients:
1/4 Goji berries
Directions:
To make kombu dashi,
soak
the
dried
kelp/seaweed in water for 2 hours. Put the kombu and water in a cooking pot. Put on medium
heat.
Turn
off the
heat
when the water comes to a
boil.
Then, remove the kombu with a strainer. The remaining liquid is your kombu dashi. You
can
leave some kombu in the soup.
Cook the soba noodles according to the packet. Drain and set aside.
To make teriyaki salmon,
marinate
salmon filet/loin with sake, soya sauce, mirin, and sugar.
Image Sources: