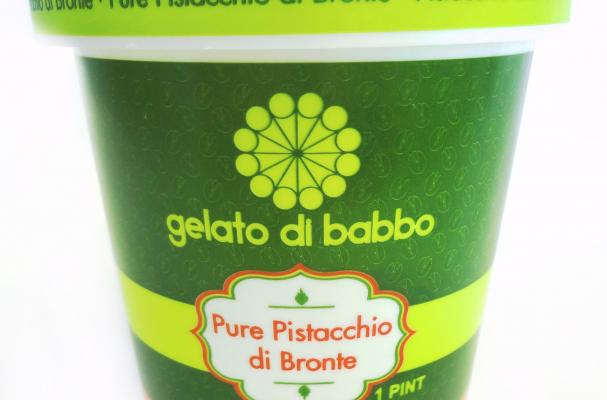 Creamy and lush all at the same time is not the usual way to describe gelato.
In fact had I imagined a more visual way to describe Gelato di Babbo, but it wouldn't be printable on a family friendly website.
The package arrived carefully packed in dry ice. I couldn't wait to add some water to the chunk of frozen fun in the Styrofoam package and make fog. The day was steamy hot and the fog quickly darted out towards the garden.
The simple idea of playing with fog was standing in my way towards experimenting with the goodies resting on the kitchen counter.
Gelato di Babbo certainly has lovely packaging. They utilize a crisp type style that evokes a sense of quiet sophistication. The package design is all at once, intelligent and classy. I'm getting hungry looking at the container because I know that a clearly passionate foodie who I'm friends with on Facebook crafts the inviting contents!
Gelato needs to do two things for me. Taste like Italy and leave me with a smile on my face. Gelato di Babbo succeeds on both these counts. I think the former does this product perfectly. This Gelato is not over the top. It is restrained. The flavors don't knock you out. They reveal themselves slowly. They seem to anticipate your desires and they touch places in your memory not yet memorized. I enjoyed all the flavors I tried so far, not as a mere metaphor, but part of a greater, almost symbiotic relationship of aroma to acidity to sweetness to the clean, yet sumptuous finish. True Gelato is made from skim milk, but there is nothing skimpy about the flavor.
I hold the coconut in my hand. Pure white and true to the flavor of freshly cut coconut, all I can think of is full bodied Jamaican Rum. Denizen Rum (distilled in Jamaica, blended in Amsterdam) is gorgeous white rum that drinks like a dream. I mixed some in an affogato with a scoop of the coconut and a splash of spiced tea. This is a very urbane method of bringing the islands to your table. The aromatic finish of this dessert is less sweet and more savory.
The pistachio made with hand selected Sicilian pistachios calls out for Bourbon Whiskey. This affogato I created with the slightly pale green gelato takes a bit getting used to. But like everything unfamiliar, untested by the masses, the aromatics of the Bourbon call out to the familiar salty/sweetness of good pistachio gelato. I chose the Buffalo Trace Bourbon Whiskey for this affogato. You don't need much to wake up your palate.
The coffee gelato is a joy! The flavors of sugar and smoke weave deeply into my memory and all I can think about is that bottle of Balblair 1991 across the table from me. I used to enjoy a healthy dram of Scotch Whisky in my coffee, why couldn't I enjoy a similar concoction as an affogato? Why not?
The Super Dark Chocolate is my favorite of the tasting. This one calls out to me as restraint. I must restrain myself from adding any more liquor. But the draw of the wild is too powerful; it takes me to a place that is deep in my memory. I remember the first time I had gelato in Italy. We had stopped to get gas outside of Rome. It was very warm day and I saw a little gelato stand by the side of the road. The man behind the stand was crisply dressed in a white hat, white shirt, white trousers, white belt and white shoes. Although I was only about 15 at the time, I remember it as vividly as if it was yesterday. The colors of the gelato stand out in my memory as particularly unforgettable. And I remember that the flavors were not the typical ice cream flavors. Some were fruit driven, others nut-like, I wanted to take all of them in the car with us.
The Super Dark Chocolate calls out for a particularly interesting product from Italy. This is the liquor known as Aperol. Aperol is a bitter with flavors of herbs and spices. It's just the thing for dark chocolate, the bitter and the sweet. You could say that I'm a big fan.
************************************
From Kim's press release:
How it all started . . .
From the farm direct to the supermarket, Kim Zanni's Gelato di Babbo™
remains true to her Italian roots - with a Pennsylvania Dutch twist.
Lancaster County (PA) – In five short years Gelato di Babbo™ has become one of the largest manufacturers of artisan gelati and sorbetti in Pennsylvania – with seven flavors now making their way into a national distribution that has grown from 20 stores to over 200 in 15 states.
It is no small accomplishment for a single mom who refuses to take no for an answer, is willing to put in the time to turn her dreams into reality, and has figured out how to make great-tasting, authentic products that are super low-fat. Some flavors are as low as 0 to 3 grams of fat per serving, making them the lowest fat gelato on the market.
Her sorbetto, made with 1½ to 2 pounds of fruit and no milk, is refreshing, healthy and fat-free.
Initially, Kim Zanni sold her made-that-morning product from a customized trike up and down Main Street in Lititz, Pennsylvania – a popular tourist destination in Lancaster County and her hometown. Taste after taste, word spread about Zanni's amazing creations – from traditional Pistachio, Hazelnut, Chocolate and Coffee to more adventurous seasonal favorites like Honey Lemon Lavender, Southern Sweet Potato with Walnuts, Sunflower, Key Lime White Chocolate Chip, even Shoo-Fly Pie.
After a summer of non-stop lines and special orders, she began selling to nearby restaurants, cafes and theme parks. She developed a catering business and set up a website so she could ship nationwide. Within six months her hand-filled pint-size packages hit local grocery shelves.
"Gelato di Babbo will always be made fresh daily, from scratch, using the finest ingredients," Zanni said. "People find me – by word of mouth – because they want something natural that doesn't come from a powdered mix, or off an assembly line with all kinds of fillers. Happily, once people have a taste the product sells itself!"
The desire for "all natural" motivated two major chains, Giant® and Whole Foods® Market, to pick up Gelato di Babbo flavors for their stores – along with a roster of boutique and gourmet shops and regional chains like Stauffers of Kissel Hill and Darrenkamps.
Each new introduction (a store or new flavor) is announced on Gelato di Babbo's Facebook page. Zanni maintains a daily dialog with fans that share her joys, canny observations and frustrations, provide instant product reviews and advice, and even keep tabs on store inventories. The page is constantly updated with photos and videos of her products and store demonstrations, press, and trips to Italy (always a source for inspiration).
Zanni owned a video production company before she discovered gelato on trips to Naples, Italy. "I spent an entire summer there, tasting gelato every day – sometimes twice a day. I loved the way Italians have evolved a social scene around gelato. And I love to see everyone's faces when they taste my gelato the first time. It's like a shock to their mouth. When it hits your lips, it is warm but still cold, and the dense, rich, velvety texture allows each flavor to be fully experienced."
An absolute stickler for quality and authenticity, Zanni mastered both the technical and creative aspects of producing exquisite gelato, enhancing the traditional recipes she learned in Italy and constantly experimenting with new flavor combinations in search of the perfect niche. Her Pure Pistacchio di Bronte, made with 100% DOP Bronte pistachios, is a case in point. "I went to Italy for the best pistachio in the world," Zanni explains. "I walked the magma rock in Mount Etna to see the pistachio growing during last year's harvest – a harvest that only takes place every other year. I have found my liquid green gold, my oro verde, and brought it back to the U.S. for my products."
Growing up in the heart of Pennsylvania Dutch Country fostered a keen awareness of the benefits of farm fresh. "Lancaster County practically invented the notion of farm to table," she explains. "It has given me a profound appreciation for only the best of the best ingredients. In the early days, I utilized raw Lancaster County milk that literally went from the cow, to pasteurization, to production without leaving the farm. I buy goat's milk at a local Amish farm, honey from a beekeeper in Strasburg, and grow lavender in my own back yard."
Gelato di Babbo's meteoric rise in sales did take its toll. Kim not only poured every penny she earned back into the business, she oversaw everything from product development and package design to production, marketing and sales. She even stocked and restocked grocery shelves to make sure her product was out there and in sight.
She took advantage of PA Preferred, a state program that connects consumers with local producers, and PAgrows, which helps agriculture-related businesses, raise money. Said Jared Grissinger, an economic development analyst with the state Department of Agriculture, "I give her a lot of credit. She really puts herself out there and goes after things."
As sales grew, she moved production from her home to a Mennonite farm production facility, to a major producer that could keep up with demand and still maintain her strict standards in terms of delivering the best possible product to her customers. From producing over 30 flavors that changed with the seasons, Zanni zeroed in on six customer favorites to take into the national limelight – Pure Pistacchio di Bronte, White Hazelnut Chocolate, Coconut, Coffee, Super Dark Chocolate and Vanilla Bean – plus Raspberry Sorbetto. Fall 2012 will see two new introductions, a cactus fruit gelato and a pear or apricot sorbetto (her direction lies in the posts of her Facebook fans).
She also works with a broker and national distributors, making her free to focus on sales and building the Gelato di Babbo brand that, thanks to Facebook, is delightfully intertwined with her own, sometimes over-the-top personality.
Never one to stand still – ever – Zanni created Zanni Foods, Inc. an umbrella company that is home to Gelato di Babbo, Zanni Foods spreadable creams(including a Baci d'Amore white chocolate hazelnut crunch spread that was influenced by her White Chocolate Hazelnut gelato recipe), and a line of nut pastes targeted to commercial bakers, gelato/ice cream makers and confectioners.
All reflect a business model that is eloquently simple: to use local ingredients whenever possible and import unique specialty ingredients that no other manufacturer uses, creating a market niche of high quality products for customers with discerning palates.