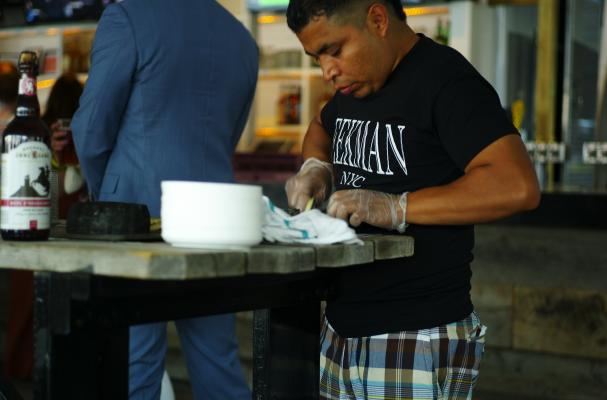 Last night under the waning summer's sun something magical took place at the Beekman Beach Club on Manhattan's East Side. The old Fulton Street Market and a beach built on a reclaimed fish pier.
Two handsome young men from the hinterlands wandered down to the big city to share their wares and their passion.
These talented artisans are the founders of a marvelous experiment in agriculture, product design and passion named the Beekman 1802.
Their names are synonymous with good taste, smiles and carefully chosen wares.
Why was I there?
Well, I'm the Beekman Boys Cocktail Writer!
My contribution to their web page is through my moniker The Soused Gnome.
Last night a lovely group of the friends of the Beekman Boys (myself included) were invited to the Beekman Beach Club in NYC's Manhattan Beach Club.
We gathered over cold draughts of Ommegang Beer, brewed carefully according to Belgian and domestic recipes in Cooperstown, NY. Served alongside the luscious, salubrious ales was a most incredible hand crafted cheese named Blaak. Finally a drizzle of liquid pleasure, a lovely "dripping" sauce woven of balsamic vinegar, figs and the elderberries was carefully applied from a small bottle reminiscent to Balsamic Vinegar. It's quite concentrated in flavor and nose...Perfect to dot on ice cream or any aged hard-cheese!
Klaus (The Soused Gnome from my cocktail page) was very disappointed that I didn't bring him with me!
But wait! Who are the Beekman Boys?
From Wikipedia:
http://en.wikipedia.org/wiki/The_Fabulous_Beekman_Boys
From Wikipedia, the free encyclopedia
The Fabulous Beekman Boys is a reality television show produced in the United States by World of Wonder Productions. The series follows Josh Kilmer-Purcell and his partner Brent Ridge as they learn how to become farmers and launch their lifestyle brand, Beekman 1802. Brent, a physician who previously worked for Martha Stewart Omnimedia, lives at the farm full time, while Josh, a New York Times bestselling author, commutes from their apartment in New York City on the weekends. The show originally aired on Planet Green, one of the Discovery Networks, but was acquired by Cooking Channel, a network owned by Scripps Network Interactive in 2012.
Touted as a "gay Green Acres",[1] the series chronicles the couple's trials and tribulations as novice farmers, aided by their caretaker and resident farmer John Hall, or "Farmer John." Hall brought his goats to the Beekman Farm shortly after Ridge and Kilmer-Purcell purchased it in 2007. Also featured is Polka Spot, the farm's llama. Other residents of Sharon Springs, New York are also included in the cast, including Doug Plummer and Garth Roberts, owners of the American Hotel.
On August 9, 2010, Planet Green announced that The Fabulous Beekman Boys had been renewed for a second season of ten episodes. In announcing the renewal, Laura Michalchyshyn, President and General Manager of Planet Green, noted that the series "has quickly established itself as a cornerstone franchise for Planet Green".[2] The second season began on March 22, 2011.[3]
Planet Green declined to renew The Fabulous Beekman Boys for a third season based on low ratings.[4] However, Cooking Channel announced in April 2012 that it had picked up the series for a third season. The channel plans to repeat the first two seasons with additional footage as well.[5]
+++++++++++++++++
For years I worked as a private chef and wine consultant along with my full-time job as a private banking assistant. It is not a stretch of the imagination to say that many of my former clients never learned to boil water.
That is why resources such as the Beekman Boys are so important to food and the art of food appreciation. They demystify the art of eating, farming and living.
Their way is simple, fresh and quite friendly.
They are not culture snobs like some of the people in the cooking industry. They're really just nice guys!
No, I'm not swayed by my working for them, not at all. I'm greatly honored to have the opportunity to share my passion for great cocktail writing with their readers.
Of course it's not just about cocktails at the farm!
We tasted a gorgeous cheese called Blaak. Blaak is a raw milk (aged) goat and cow's milk cheese that is covered in ash, then aged for four months in dark, cool aging caves.
This is the description from their website:
Beekman 1802 Blaak is the first artisanal cheese produced from the goats at Beekman Farm. Blaak is an Italian-style semi-hard cheese made from a 60:40 mix of unpasteurized goat and cow milk giving the cheese a mild but distinctive flavor.
In keeping with traditional cheesemaking practices, this rare cheese is aged for 4 months in our caves and is coated with ash at each turning to promote the ripening of the wheel. The resulting edible black rind gives the cheese its name and makes it a true conversation piece on your table.
But like the best things in life, there is a waiting list of 8000 people. Unless you were at the Beekman Beach Club last night, you're out of luck!
We also tasted a series of lusty Farmhouse style ales from Ommegang in Cooperstown, NY. Poured at cellar temperature in the peak of freshness, these beers made the task of drinking very pleasurable!
These ales are made in the Bierre de Garde (or Country Beer) style. I love their fresh grain nose and mildly hoppy demeanor. They exemplify the art of brewing liquid breads. Belgian-Style!
The beer flowed, and the conversations moved me deeply. I made new friends and watched the sun go down on the East River over the Brooklyn Bridge.
It was a magical night of dreams.
Thank you to the Beekman Boys for inviting me. I'm honored to write for you. Cheers! wb
http://www.cocktailwhisperer.com
Categories: