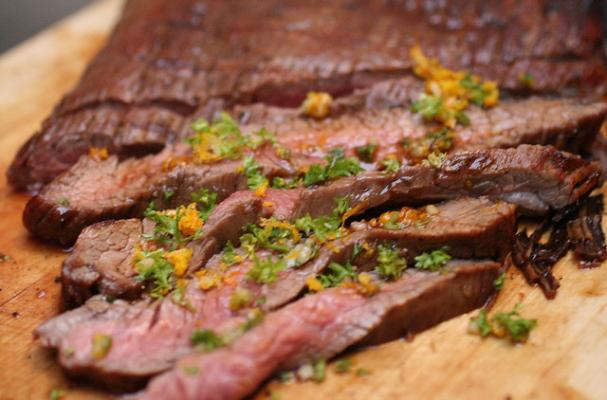 This Sunday, take advantage of the last days of summer and grill up this sweet and spicy orange flank steak from Mother Rimmy. The steak is marinated in a sauce composed of soy sauce, sesame oil, garlic and ginger. You'll want to marinate the steak for at least four hours to let the flavors merry and penetrate the meat. Serve the flank steak with a fresh and crunchy cabbage salad.
Orange Flank Steak with Cabbage Salad
Ingredients:
Sauce:
1 large orange, zested and juiced
1 teaspoon Worcestershire sauce
2 tablespoons low sodium soy sauce
1 tablespoon sesame oil
2 tablespoons brown sugar
1 tablespoon ginger, minced
2 cloves garlic, minced
1 tablespoon onion, minced
1 pound flank steak
Salad:
6 cups cabbage, finely sliced
1/2 cup chives, finely chopped
1 cup carrot, shredded
Directions:
Combine sauce ingredients in a large bowl. Reserve half for the cabbage salad, and pour the rest into a zip lock bag with the flank steak. Marinade the steak for 4 hours, up to overnight.
Combine cabbage with remaining sauce and refrigerate to blend flavors for one at least one hour, however, you can make this salad the night before and marinade the chicken at the same time. This salad is even better the next day.
Grill flank steak over medium heat for 4 – 5 minutes per side until desired doneness, 4 – 5 minutes, dependent on how thick the steak is will be medium to medium rare.
Serve with salad.
Image Sources: