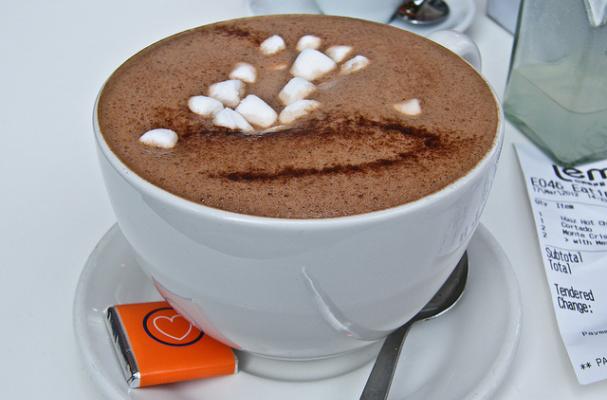 Mexican hot chocolate is sweet, spicy, and absolutely delicious. This beverage is guaranteed to warm up you on the coldest of fall evenings. The blend of rich spices and chocolate wake up the senses and delight the taste buds. Serve you mug of Mexican hot chocolate with whipped cream and a doughnut for dipping.
Ingredients:
3 cups non fat dry milk powder
1 ¾ cups powdered sugar
¼ cup brown sugar
1 ½ cups cocoa powder
¾ cup white chocolate chips
¾ cup semi sweet chocolate chips
¼ Tsp. salt
2 Tsp. corn starch
½ Tsp. cinnamon
¼ Tsp. cayenne pepper
Preparation:
1. In a large bowl, whisk together all ingredients.
2. In batches, pulse mixture in a food processor until smooth and well combined.
3. Store in a sealed container in a dry and dark place.
4. To make hot chocolate, put 1/3 cup of mixture into a mug and mix with hot water or milk.
5. Top with marshmallows and a sprinkle of cinnamon.
Image Sources: