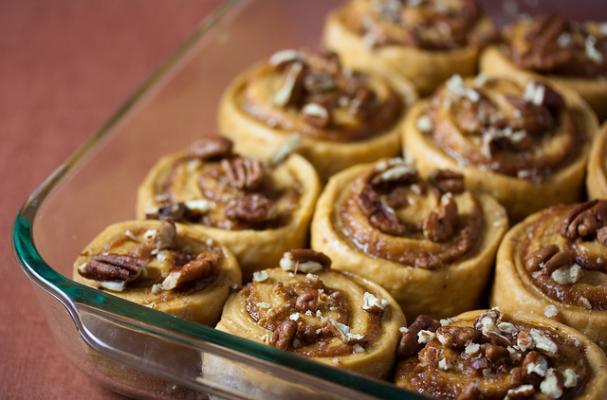 Vegan chef Chloe Coscarelli shares one her favorite recipes for Thanksgiving leftovers - vegan pumpkin cranberry cinnamon rolls with maple icing. In addition to turkey, you probably still have extra cans of pumpkin puree in your pantry and a Tupperware of cranberry sauce in the fridge. The beauty of this recipe is that it can be made ahead of time so you can prepare the dough the day before and enjoy a hot baked cinnamon roll the next morning. These cinnamon rolls contain all your favorite holiday flavors and are sure to please everyone in the family.
HUNGRY's Holiday Kitchen - Chloe Coscarelli
Pumpkin Cranberry Cinnamon Rolls with Maple Icing
Makes 12 cinnamon rolls
Make-Ahead Tip: After the assembled unbaked cinnamon rolls have risen, cover them in plastic wrap in the pan and refrigerate overnight. Remove plastic wrap and bake the next day, according to recipe directions.
Ingredients:
Dough:
1 cup pumpkin puree, canned or cooked fresh
1-cup soy, almond, or rice milk
½ cup plus 1 tablespoon sugar, divided
½ cup vegan margarine
½ teaspoon salt
1-teaspoon pure vanilla extract
¼ cup warm water, about 110 degrees
1 packet active dry yeast (2 ¼ teaspoons)
5 cups all-purpose flour, divided, plus extra for rollingCanola oil, for greasing
Filling:
¾ cup brown sugar
2 teaspoons ground cinnamon
4 tablespoons vegan margarine, melted
1 (14-ounce) can Whole Berry Cranberry Sauce
Icing:
1½ cups powdered sugar
3 tablespoons maple syrup
1 to 3 tablespoons water
To make the dough: In a medium saucepan, whisk pumpkin puree, nondairy milk, ½ cup sugar, margarine, and salt over low heat until combined. Remove from heat and add vanilla. Let it cool until very warm to the touch, about 110 degrees.
While the pumpkin mixture is cooling, place the warm water, remaining 1-tablespoon sugar, and yeast in a 1-cup glass measuring cup. Stir for a second or two and set aside for about 10 minutes. The yeast will become foamy, double in size, and reach the ¾-cup line. If it does not do so, then the yeast is dead or the water was not at the proper temperature, so make another yeast mixture before proceeding to the next step.
In a stand mixer fitted with a whisk or paddle attachment, combine the pumpkin mixture and the yeast mixture, and beat at medium speed for about 1 minute. Reduce the speed to low, and add 2½ cups flour. Beat until incorporated and add the remaining 2 ½ cups flour. Beat for 1 more minute. The dough will be somewhat wet and sticky. Change to a dough hook attachment and knead on medium speed for 2 minutes, or place the dough on a floured surface and knead for 2 minutes with your hands. If needed, add more flour to keep the dough from sticking to your hands.
Transfer the dough to a large well-oiled bowl and rotate the ball of dough, so that it is completely covered with oil. This will prevent the dough from sticking to the bowl as it rises. Cover with a dry kitchen towel and place in a warm part of the kitchen. Let it sit until it has doubled in volume (about 1 ½ hours).
Remove the kitchen towel and punch your fist in the center of the dough, so that the dough deflates. Take the dough out and put it on a floured surface, cover with the kitchen towel, and let rest for about 10 minutes.
To make the filling and assemble the rolls: Lightly grease a 9- x 13-inch pan. Combine brown sugar and cinnamon in a small bowl and set aside.
Roll the dough out on a lightly floured surface into approximately a 20- x 13-inch rectangle. Brush or spread the melted margarine over the entire surface of the dough. Sprinkle the brown sugar mixture evenly over the surface of the dough. Spoon evenly spaced tablespoons of cranberry sauce on top of the brown sugar.
With the long end toward you, roll the dough up evenly. With the seam side down, use a sharp knife to cut the log in half. Then cut each half into 6 equal pieces. You will have 12 cinnamon rolls. Place the rolls, cut side up, into the prepared pan, in 4 rows with 3 rolls in each row, leaving some space between them. Cover with a dry kitchen towel and place in a warm part of the kitchen for the second rise until the cinnamon rolls have risen and expanded, about 1 hour.
Once the cinnamon rolls have risen, preheat the oven to 375 degrees. Bake, uncovered, for 20 to 25 minutes until lightly browned on top. Let the rolls cool for about 10 minutes before glazing.
To make the icing: In a medium bowl, whisk together powdered sugar, maple syrup, and 1-tablespoon water at a time, until smooth.
Drizzle the icing over the rolls. Serve warm or at room temperature.
Chloe's Tip: Rising Dough
If your kitchen is cold, use this trick to create a warm environment for your dough to rise. Heat the oven to 200 degrees, and then turn it off. Let the covered bowl of dough sit in the oven until it doubles in size.
Image Sources: