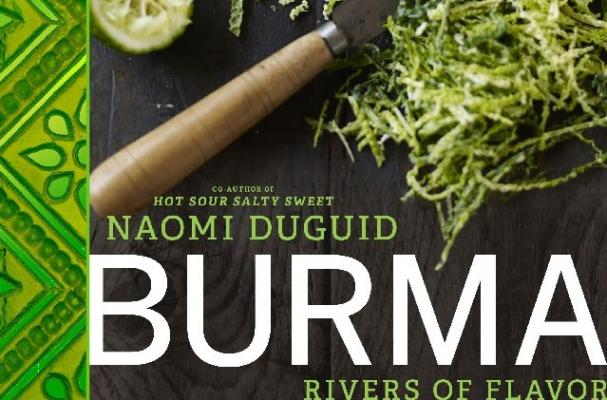 In Naomi Duguid's new book, Burma: Rivers of Flavor, she surveys one of the most unknown cuisines of Southeast Asia. Duguid is known for her in-depth explorations of a country's food culture and this book is no different. She unveils the mysteries behind Burmese cuisine while also making the recipes approachable. Their dishes are highly complex with a balance of flavors that utilize all your senses. From tart and spicy salads to comforting noodle dishes, the food of Burma is fragrant, intoxicating, and can finally be enjoyed by all.
1. What inspired you to write a cookbook on Burmese cuisine?
Burma is such an interesting location, lying between India and China, the giants of Asia, and bordering Bangladesh and Thailand. How could it not be a great project to take on, exploring its culinary diversity and in the process understanding its connection to its neighbors? I'd traveled there first in 1980, when it was completely closed off from the world, then again in the late eighties and nineties. I knew it was a place with intriguing layers of culture and food culture. And I knew that it had been demonized by Western governments. The regime was horrible, yes, but demonizing the regime meant also cutting off the people of Burma from contact with the West. I wanted to make it real for people from the outside world, to show that it's a real place with real people; I wanted readers to empathize with, and have respect for, the people of Burma.
2. What was the biggest challenge you faced while writing this book?
At the beginning I was really concerned that I might make trouble for people I talked to in Burma, because the government there was a repressive totalitarian regime. And I worried that people would be nervous about talking to me, and so I wouldn't be able to make personal connections. But as it turned out, at first, people might have been cautious but they were still warm and welcoming – they got used to me hanging around eating and photographing in street stalls and tea shops and markets. The regime softened, changed its approach, just over a year ago. As a result the people of Burma have gained confidence that they can speak freely and engage in conversations with each other and with foreigners without fear of reprisals. It's a wonderful, almost miraculous-seeming change.
3. What are the main characteristics that distinguish Burmese cuisine compared to other Southeast Asian countries?
Burma has many ethnic groups and thus many cuisines. That said, salads are one of the glories of the cuisine no matter where you are in Burma. They're flavored with fried shallots, roasted peanuts, lime juice, and more. Noodle dishes, often served with a broth and a wonderful array of condiments are another common thread. In all the food there's a subtle dance and balance between tart, salty, and sweet, with a touch of chili for heat.
4. What are three of your favorite recipes in the book?
I am especially drawn to the salads. It's hard to pick just one, but one of the most memorable is the Ginger Salad. I find I make the Kachin Chicken Curry frequently, and it always pleases my guests. And while I was on book tour, I discovered that the Beef Jerky was a huge hit; it seemed like it was everyone's favorite.
5. Where will you travel and eat next?
I'm going to be in Northern Thailand in late January for my Immerse Through tour. It's an intensive "culinary immersion through food" course that I run in Chiang Mai and the northern hills with the help of Thai and Shan colleagues. After that I'll be in Burma taking several different tour groups to help them explore that interesting country through its food. After the Burma tours I'll be heading out to explore the Persian world for my next book project.
Image Sources:
Categories: