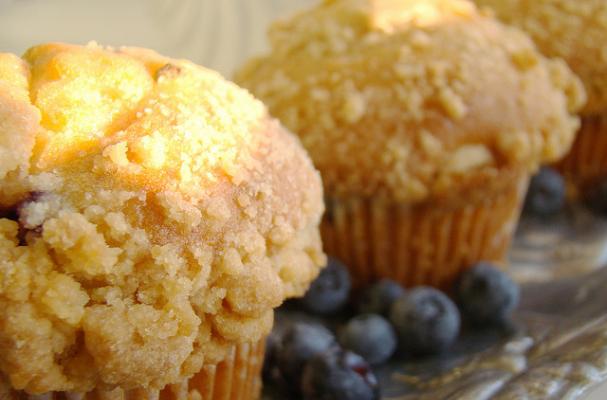 There is nothing better than waking up to a freshly baked batch of blueberry streusel muffins. The moist cake like muffin coupled with the sugary sandy topping is like heaven in each bite. You can use either frozen or fresh blueberries for this recipe, just make sure to coat them in flour before adding them to the batter. This trick will help suspend the blueberries in the muffin rather than have them sink to the bottom.
Ingredients:
1 1/2 cups Unbleached all-purpose flour
1/4 cup Granulated sugar
1/4 cup Packed brown sugar
2 teaspoons Baking powdeer
1/4 teaspoon Salt
1 teaspoon Ground cinnamon
1 Egg, slightly beaten
1/2 cup Unsalted butter, melted
1 cup (to 1 ¼ cups) blueberries, fresh or frozen & defrosted
1 teaspoon Grated lemon zest
1/2 cup Chopped pecans
1/2 cup Brown sugar
1/4 cup Flour
1 teaspoon Ground cinnamon
1 teaspoon Grated lemon zest
2 tablespoons Unsalted butter, melted
1/2 cup Powdered sugar
1 tablespoon Fresh lemon juice
Directions:
Preheat ovento 350 degrees and place paper liners in one 12-cup muffin pan. In a large bowl, sift together flour, sugar, brown sugar, baking powder, salt and 1 teaspoon cinnamon. Make a well in the center. Place egg, 1/2 cup melted butter and milk in the well. Stir until combined. Gently stir in the blueberries and 1 teaspoon of the lemon zest. Fill each muffin cup 3/4 full with batter.
Make streusel topping by combining pecans, brown sugar, flour, cinnamon and lemon zest with a fork. Pour in melted butter and stir to combine.
Sprinkle topping over each muffin. Bake for 20 to 25 minutes until muffins are browned and firm.
Make glaze by mixing powdered sugar and lemon juice. Use a teaspoon to drizzle glaze over warm muffins. Serve immediately.
Image Sources: