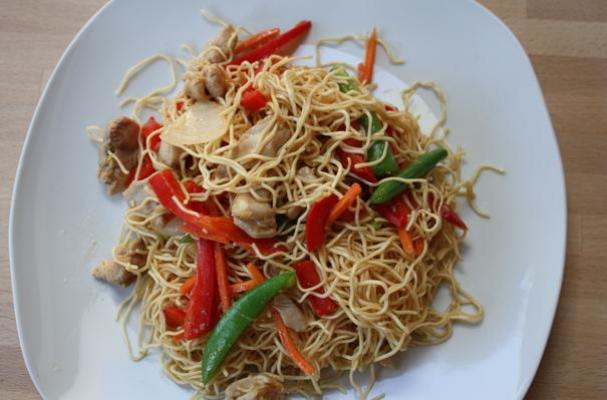 This healthy, low fat stir fry recipe is loaded with flavor and vegetables. It's a quick and easy dinner that can be put on the table in about 30 minutes start to finish. It can easily be made vegan by omitting the chicken or substituting tofu.
Chinese Style Chicken and Noodle Stir Fry
Submitted to Foodista by Cari Snell
Serves 6
16 ounces (454 gram) package of chow mein noodles
1/4 cup chicken broth
1 teaspoon sugar
4 tablespoons oyster sauce
1 1/2 tablespoons soy sauce
1/2 cup water
2 tablespoons vegetable oil
2 tablespoons minced garlic
2 tablespoons minced ginger
5 boneless, skinless chicken thighs, cut into bite sized pieces
1 onion, chopped
1 red pepper, sliced into thin strips
2 large carrots, cut into matchsticks
1 cup sugar snap peas, sliced lengthwise
Soak noodles in hot water until softened, about 5 minutes. Drain and set aside.
In a small bowl, combine chicken broth, sugar, oyster sauce, soy sauce and water. Set aside.
Heat oil in a wok over medium high heat. When hot, add garlic and ginger. Cook until fragrant , about 30 seconds, then add chicken and cook until done.
Add vegetables and cook until tender crisp, about 4 -5 minutes, then add chicken broth mixture.
Stir in drained noodles and cook until heated through, about 2 minutes. Enjoy!