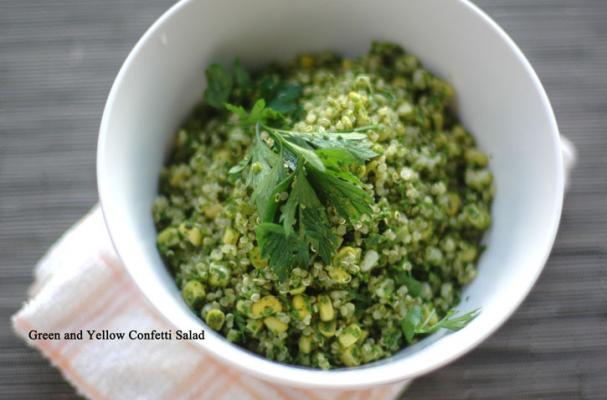 This Green and Yellow Confetti Salad features a warm protein-rich quinoa tossed with sweet summer corn and a handful of kale that has been puréed in a food processor to resemble confetti. A handful of fresh basil and tangy mint add an unexpected twist while fresh parsley adds a vibrant finish. I love this salad on it's own as a side dish, and while it may be a bit more daring, I've found it also tastes delicious incorporated into veggie burgers, and turkey burgers too. My two year old also enjoys this salad folded into a warm quesadilla.
Green And Yellow Confetti Salad
Serving Size: 2 (400 calories per serving)
Ingredients
5-6 leaves curly green kale (stems included)
1/2 cup quinoa, dry
4 ears fresh corn, peeled, kernels removed
few leaves fresh mint, finely chopped
3 sprigs basil, finely chopped
1 sprig parsley, roughly chopped
few tablespoons good olive oil
sea salt and pepper
Better-for-you ingredients
Learn more about the better-for-you ingredients in this recipe:
Quinoa – Quinoa (KEEN-wah) is actually not a grain but a type of seed. It provides a complete protein, making it a popular staple in veggie-focused diets. Quinoa contains ~6 grams of protein per 1/4 cup serving. Health beauties often swap in quinoa for rice in many recipes.


Kale – Kale is a nutritional superstar and a health beauty favorite in our quest for radiant skin. It is full of antioxidant and anti-inflammatory benefits that help your body to stay vibrant and youthful.


Directions
Bring 1 cup water and quinoa to a boil in a covered pot. Then lower the heat until it is just enough to maintain a simmer. Let simmer for 10-12 minutes. Then turn off the heat, remove pot from burner. Fluff with a fork, cover and let stand for 5 minutes.
Meanwhile toss kale into a food processor and purée until very finely chopped.
In a large skillet sauté corn in a tablespoon of olive oil until just fragrant and tender. Add quinoa, kale and a dash of sea salt and pepper. Sauté for 2-3 minutes more. Remove from heat and transfer to a medium-sized serving bowl. Fold in fresh basil and mint. Garnish with parsley and serve!
Grab More
Have a fresh bunch of parsley that you are looking to use up? Give this Parsley Pesto a try!
Categories: