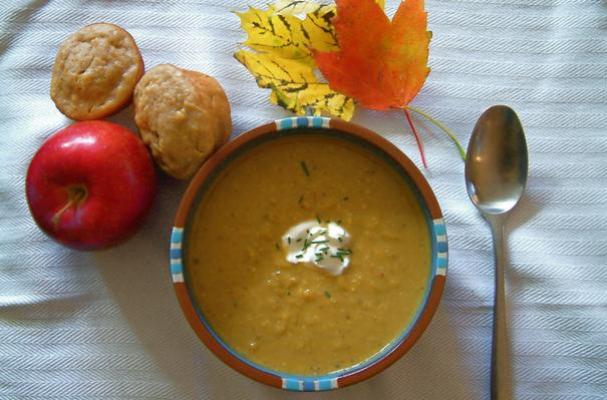 This butternut squash soup recipe from Kitchen Report is a super easy dinner, especially when using a store-bought bag of conveniently peeled and cubed squash. Not having to peel and seed a hard squash takes the work out of this easy recipe! Once roasted the squash is puréed with broth, sautéed onions, ground hazelnuts, garlic, sage and red pepper flakes for a soup that's perfect on a chilly fall night.
Roasted Butternut Squash Soup with Hazelnuts and Sage
Submitted to Foodista by Kitchen Report
Serves 2
2 cups butternut squash, peeled, seeded and chopped
2 tablespoons olive oil
Salt and pepper, to taste
1/4 cup hazelnuts, roasted and chopped
1/2 medium onion
2 cloves garlic
1 teaspoon fresh sage, diced
2 cups vegetable broth (or chicken broth)
1 pinch red pepper flakes
Sour cream, for garnish (optional)
Preheat oven to 375 degrees F. Spread butternut squash tossed in olive oil and season with salt and pepper on a baking sheet, cover in foil and bake for about 30 minutes, or until tender. Remove the foil for and roast for an additional 5 minutes.
On a separate sheet, spread out the hazelnuts and roast for about 7 minutes at about 350 degrees F. Transfer the nuts to a colander and use a tea towel rub off the skins. Using a food processor, blend until fine.
In a stock pot, sauté the onions in remaining olive oil until they are translucent, about 3 minutes. Add garlic, sage, and blended hazelnuts and stir an additional 1-2 minutes. Add the butternut squash and broth. Bring to a simmer, stirring, and cook for about 5 minutes. Let the soup cool and then pureé it in a blender or food processor.
Return to the pot and season with red pepper flakes, salt, and pepper. Serve with a garnish of sour cream.