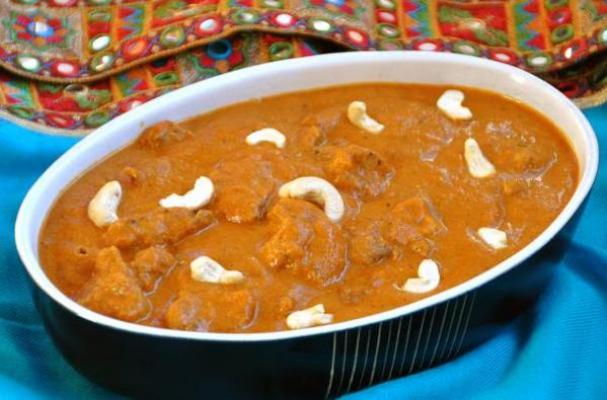 Indian chicken and curry recipes are a great way to get a lot of protein, healthy spices and concentrated veggies in a delicious meal. Try making this butter chicken recipe, but add ground or whole cashews to the sauce for a nuttier flavor and crave-worthy crunch! For this recipe, we'd suggest about 2 Tbsp ground cashews; whole cashews as garnish are optional.
Cashew Butter Chicken
Submitted by Curry Twist!
Ingredients:
8 boneless skinless chicken thighs, trimmed of fat and cut into small pieces
4 tbsp oil, divided
Salt to taste
1 tsp each, divided: garam masala, ground coriander, ground cumin, dried fenugreek leaves
½ tsp each, divided: cayenne pepper, turmeric
½ tsp cumin seeds
2 cloves of garlic, finely grated or minced
1/2 inch piece of ginger, finely grated or minced
1 medium cooking onion, finely chopped
4 large canned whole plum tomatoes
2 tbsp plain Greek style yogurt
2 tbsp chopped fresh coriander
Preheat oven to 425ºF. Line a baking tray with parchment.
Place chicken in a large mixing bowl. Add 2 tbsp oil, salt, ½ tsp each of the garam masala, ground coriander, ground cumin and dried fenugreek leaves, ¼ tsp each of cayenne and turmeric. Toss well to coat. Spread evenly on baking tray. Bake for 20 min or until chicken is roasted and lightly browned. Drain juices, reserve chicken.
Warm remaining 2 tbsp oil in deep skillet over medium high heat. Add cumin seeds, sauté 30 sec. Add garlic, ginger and onions. Sauté, stirring occasionally for about 7-8 min or until onions are softened and lightly browned. Reduce heat to medium, add tomatoes. Stir gently, crushing them into the sauce with the back of your stirring spoon. Add remaining spices and salt. Cook for about 5 min or until tomatoes have thickened slightly. Add yogurt, stirring continuously. Cook 2 min, then add ½ cup water. Mix well, bring contents of skillet to a boil. Add chicken, cook 10 min for flavours to blend. Fold in fresh coriander.
Image Sources: