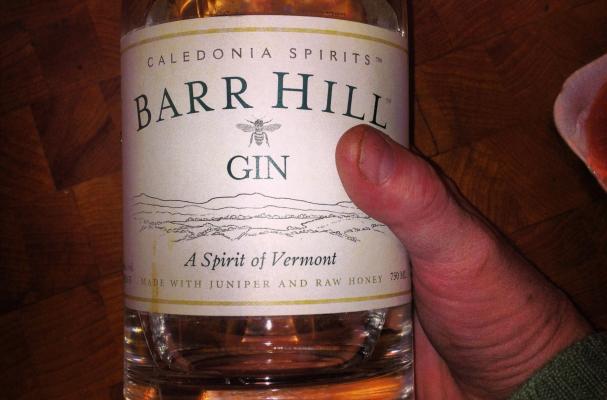 Recently I had the honor of traveling to the Northeast Kingdom of Vermont to taste Barr Hill Gin at the source. For those of you who don't know Caledonia Spirits, let this be a good introduction to a hand crafted spirit that I'm passionate about.
Caledonia Spirits, Barr Hill Gin is made from locally sourced grains and locally gathered, raw honey. They use juniper berries and that's it. No caramel coloring, chemicals, glycerin or sugar added thank you.
There is a certain purity about Barr Hill Gin and I like it very much. I love working with it because of the herbal notes and the natural sweetness derived from the raw honey element.
But throw into the mix St. Patrick's Day, that holiday where careful drinking is thrown out of the window with the baby AND the bathwater!
I think it important on St. Patrick's Day, like every other drinking holiday, Christmas, New Year's Eve, Fourth of July, Memorial Day and Labor Day are designed to help you drink better!
And why not? It's your belly after all. And most importantly your head. Yes, that thing on your shoulders. You don't need to drink twenty pints of Guinness with shots of Baily's dropped into them, nor do you need to drink Irish Whiskey dropped into pints of Hard Cider.
I like a strong drink, please don't get me wrong. I'd rather have a couple strong drinks than a series of memorably bad ones. You know, the ones made with 1/8th cube ice and bad ingredients. The ones that make you cry in the morning. You're too old for that.
Get some Fernet Branca into you before you go to bed and some as you wake up. Don't tell me I didn't warn you!
To truly enjoy your self on these national holidays you really must stick to one kind of liquor, possibly two, but certainly don't mix red wine with beer and then shots of Jack Daniels. Nope, you'll be illing!
I like my Barr Hill Gin simply prepared thank you.
So you should heed my words and take this advice. St. Patrick's Day. The celebration of all things green should not be your face color the morning after that hallowed day!
But let me please tell you that to truly enjoy yourself, drink a bit less, make sure that you drink plenty of water and above all eat something!
The Ebb Tide
Ingredients:
1.5 oz. Barr Hill Gin
.5 oz. Chartreuse
.10 lemon
.10 lime
.10 orange (all juices MUST be freshly squeezed)
2 shakes Fee Brothers West Indian Orange Bitters
Preparation:
To a Boston Shaker filled 3/4 with ice add the ingredients EXCEPT for the bitters
Shake hard for 15 seconds
Pour into a coupe glass
dot the top with the bitters
Another wonderful way to wile away the morning watching the parade, when you should be at work is this little gem. It's so easy to prepare and so rewarding. It goes into a go/cup with ease.
You can drink it with a straw, a definite plus when watching the parade!
A Water Tank and Stables Cocktail
Ingredients:
2 oz. Barr Hill Gin
6 oz. Vietnamese Salted Lemonade (with the addition of raw honey simple syrup)
1 oz. raw honey simple syrup (2:1 ratio, boiling water to raw honey, let cool)
2 oz. Seltzer Water
Sprig of slapped mint
lime pinwheels
hand cut ice or Glace Luxury Ice
Preparation:
To a Boston Shaker filled 3/4 with ice add the Barr Hill Gin along with the Vietnamese Salted Lemonade ( you can make this yourself or go to a Vietnamese restaurant and take a glass to go)
Slap the mint and add it to the shaker
Shake hard for 15 seconds
Pour into a Collins Glass with one spear of hand cut ice or two large cubes
add the lime pinwheels and the seltzer water
or pour into a plastic cup, put a lid on the top and stick a straw into it.
My second book, Whiskey Cocktails is now in pre-sell from Fair Winds Press!