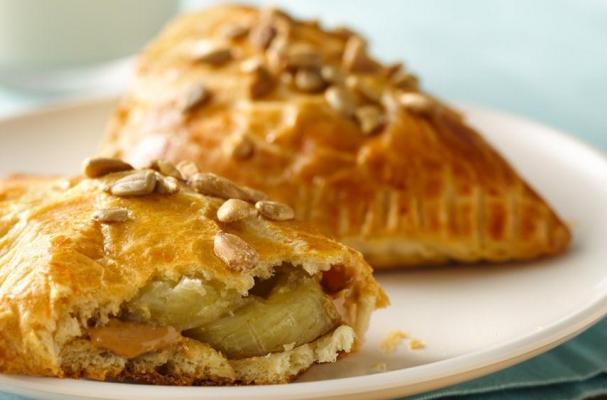 Peanut butter and banana crescents are delicious for breakfast or dessert. Your favorite creamy peanut butter is paired with sweet sliced bananas and hidden within a buttery crescent roll. Sunflower seeds add crunch and a subtle nutty flavor.
Peanut Butter and Banana Crescents
1 can (8 oz) Pillsbury® refrigerated crescent dinner rolls or 1 can (8 oz) Pillsbury® Crescent Recipe Creations® refrigerated seamless dough sheet
1/2 cup creamy peanut butter
1 medium banana, sliced (1 cup)
1 egg, beaten
1 tablespoon roasted salted sunflower nuts or sesame seed
Separate or cut dough into 4 long rectangles (if using crescent rolls, press perforations to seal). Cut each rectangle in half; press into 3 1/2-inch squares.
Spoon peanut butter in center of each square; top with 2-3 banana slices. Fold dough over filling; press edges with fork to seal. Brush with egg; sprinkle with sunflower nuts.
Bake at 375°F 12 to 16 minutes.
Editorial disclosure: Foodista received no payment for this post.
Image Sources: