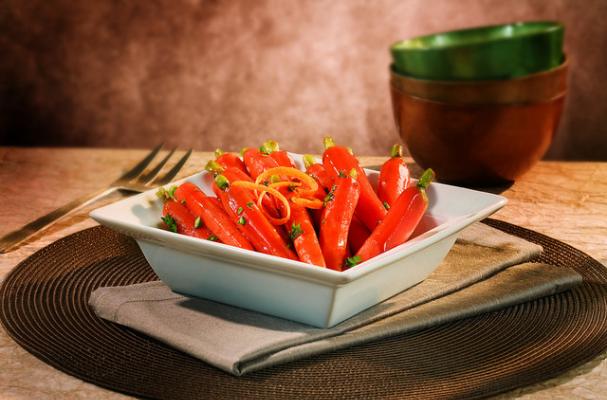 Side dishes needn't be complex and fussy. We love these simple and fresh springtime baby carrots glazed in butter, honey, brown sugar and orange juice. A bit of chicken stock balances the flavor so these babies aren't cloyingly sweet! For a beautiful presentation, look for baby carrots with the tops still on, and finish the dish with a sprinkle of fresh parsley. The Easter Bunny will surely give this dish two paws up!
Glazed Baby Carrots
Courtesy of Swanson
True "baby" carrots are a seasonal vegetable available in spring and early summer and are sold in bunches with the green tops left on. They can usually be found in upscale grocery stores or farmers' markets. "Baby-cut" carrots are mature carrots that have been peeled and cut into small carrot-shaped pieces. They are widely available year round in the produce section of most grocery stores.
1 package (16 ounces) peeled and trimmed baby carrots
1 cup Swanson Chicken Broth (Regular, Natural Goodness or Certified Organic)
2 tablespoons honey
1 tablespoon packed brown sugar
2 tablespoons orange juice
1 tablespoon butter
1 tablespoon chopped fresh parsley
Heat the carrots, broth, honey and brown sugar in a 3-quart saucepan over medium-high heat to a boil. Reduce the heat to low and cook for 25 minutes or until the carrots are tender and the liquid is reduced to a glaze, stirring occasionally.
Stir the orange juice, butter and parsley in the saucepan. Cook until the mixture is hot and bubbling.