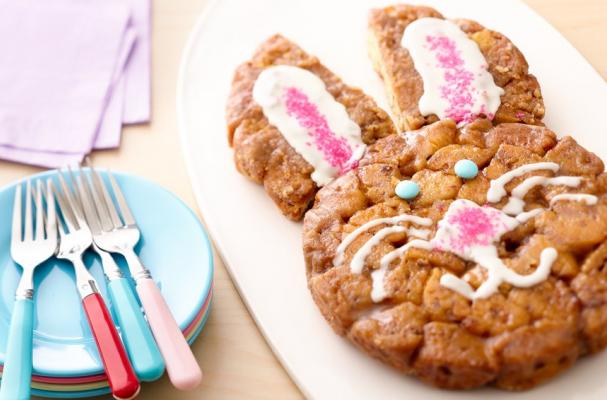 Easter bunny monkey bread is a festive way to present this breakfast favorite. Store bought cinnamon dough is rolled into balls and dipped into granulated sugar. This recipe quick, easy and oh so adorable.
Easter Bunny Monkey Bread
1/2 cup granulated sugar
2 cans (12.4 oz each) Pillsbury® refrigerated cinnamon rolls with icing
2/3 cup packed brown sugar
1/2 cup butter, melted
Candy sprinkles, colored sugar and candy-coated chocolate candies, if desired
Heat oven to 350°F. Spray 2 (8-inch) round cake pans with cooking spray.
Separate each can of dough into 8 rolls; set icing aside. Cut each roll into quarters. Place pieces in large resealable food-storage plastic bag; add granulated sugar. Seal bag; shake gently to coat. Arrange roll pieces in pans.
In small bowl, stir together brown sugar and melted butter until well blended. Pour over cinnamon roll pieces.
Bake 25 to 30 minutes or until golden brown and no longer doughy in center. Cool 10 minutes. Place heatproof serving plate upside down over pan; turn plate and pan over. Remove pan.
With serrated knife, cut one of the breads in half for ears; cut tips off one side of each half to form flat edge. Arrange pieces on top of whole bread. Cool completely, about 30 minutes. Use reserved icing to add nose, mouth, whiskers and centers of ears. Decorate with candy sprinkles, colored sugar and candies.
Editorial disclosure: Foodista was not paid for this post
Image Sources: