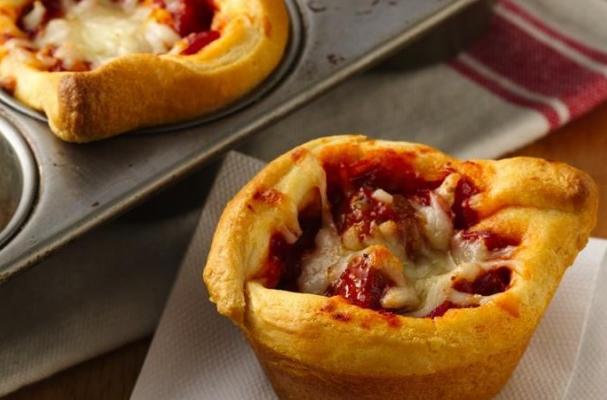 Pizza is a family favorite but sometimes time constraints don't allow you to make it from scratch. These pizza cupcakes are a tasty alternative for the days that you're craving pizza but on a tight schedule. Store bought crescent roll dough is formed in a muffin tin and filled with tomato sauce, sausage, pepperoni and cheese. A muffin pan is a versatile piece of kitchen equipment that works not just for muffins but a variety of baked goods and savory meals. It allows you to portion the meal equally so every person gets their fair share. Feel free to change up the pizza toppings to include olives, mushrooms, bell peppers, and onions. These pizza cupcakes would also be delicious with a white sauce instead of tomato sauce too.
Pizza Cupcakes
Courtesy of Betty Crocker
1 can (8 oz) Pillsbury™ refrigerated crescent dinner rolls
1/2 cup Muir Glen™ organic pizza sauce
1/4 cup mini pepperoni slices
1/4 lb mild Italian sausage, cooked and drained
1/2 cup shredded mozzarella cheese (2 oz)
Heat oven to 375°F. Spray 8 regular-size muffin cups with cooking spray. Unroll dough; separate into 8 triangles. Press into muffin cups.
In small bowl, mix sauce, pepperoni, sausage and 1/4 cup of the cheese. Spoon about 2 tablespoons mixture into each dough-lined cup; sprinkle each with about 1 teaspoon additional cheese.
Bake 16 to 18 minutes or until lightly browned. Immediately remove from cups and serve.
Image Sources: