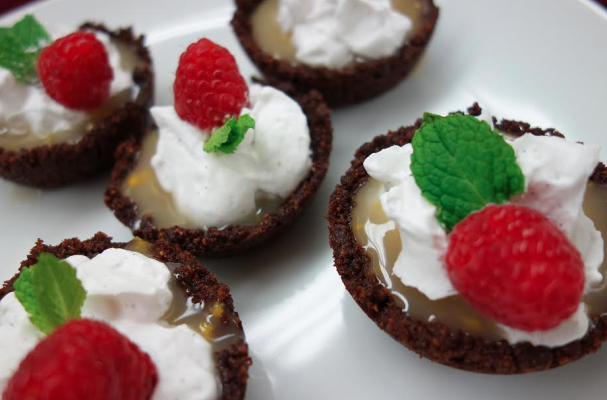 Ginger Tangerine Tart
Courtesy of Mary's Gone Crackers
Ingredients:
Crust:
1 3/4 cups Mary's Gone Crackers Ginger Snaps Cookies, crushed
1/4 cup coconut palm sugar
1 Tbsp. coconut flour
1/2 tsp. salt
4 Tbsp. coconut oil, melted
Curd:
1/4 cup cold water
1/2 cup sugar
3 Tbsp. tapioca starch
1/4 cup fresh tangerine juice
2 tsp. tangerine zest
Pinch of salt
Coconut Cream:
1 chilled can of coconut milk (overnight in the fridge)
2 ro 3 tsp. coconut palm sugar
1 vanilla bean, scraped
Directions:
Crust:
Step 1: Preheat oven to 350 degrees Fahrenheit.
Step 2: Blend Mary's Gone Crackers Ginger Snap crumbs with sugar, coconut flour and salt.
Step 3: Once incorporated, drizzle melted coconut oil in and stir to combine.
Step 4: Press into mini tart pans or muffin tins.
Step 5: Freeze for ten minutes.
Step 6: Bake for ten minutes and set aside.
Curd:
Step 1: In a saucepan, whisk together water, sugar, tapioca starch, and salt until tapioca starch is dissolved.
Step 2: Bring mixture to a boil over medium-high heat, stirring constantly.
Step 3: When mixture thickens, reduce heat to low and cook for another minute, stirring constantly.
Step 4: Pour mixture into a non-metallic bowl and add lemon juice and zest, mixing well.
Step 5: Allow to cool and thicken at room temperature.
Coconut Cream:
Step 1: Open the chilled can of coconut milk very carefully to not shake or disturb the cream on top.
Step 2: Scoop the firmer cream from the top and leave the clear liquid. You can save this if you want to, but it is not used in this recipe.
Step 3: Whip with a hand mixer until stiff peaks form.

Final Preparation:
Step 1: Pop the tart shells out of their pan.
Step 2: Add the curd filling the shell 2/3 full.
Step 3: Top with the coconut cream.
Step 4: Garnish with ginger snap crumbs, pomegranate seeds or raspberries.
Editorial disclosure: Foodista was not paid for this post.
Image Sources: