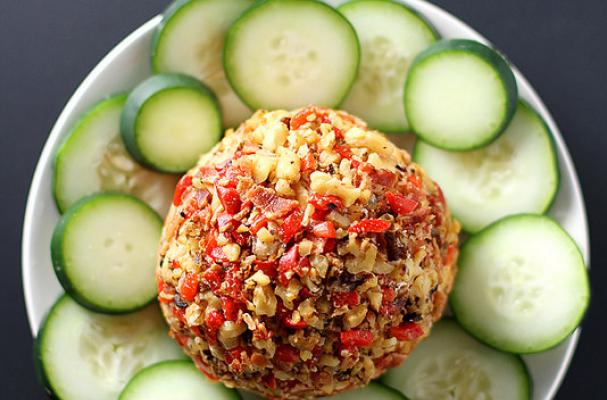 Cheese balls are quite possibly the easiest party food - EVER! Softened cream cheese (any soft fresh cheese could work here) are mixed with an array of ingredients that culminate into something splendid and delicious. Any cheese ball recipe is customizable to what is already available in your pantry and to your taste preferences. Foods like fresh chopped parsley, crispy bacon bits, buttery walnuts, and salty olives are all wonderful additions. Serve your cheese ball with slices of bread or vegetables or crackers.
Mediterranean Cheese Ball
Recipe from Table Matters
It is hard to resist the light and bright flavors of the Mediterranean. Feta and goat cheese are mixed with parsley, citrus zest, mint, and olives to create a perfect balanced bite. Buttery pine nuts add richness which compliment the bolder ingredients in the cheese ball.
Curried Cheese Ball
Recipe from Mango and Tomato
Curried cheese balls are laced with spices from the East to create an appetizer with some zing. I like to serve this cheese ball with papads, an Indian dried lentil chip, instead of crackers and some mango chutney on the side for a touch of sweetness.
Skinny Cheese Ball
Recipe from Fitness Food Diva
If you feel guilty about indulging in all the mouthwatering comfort foods Super Bowl offers, try making this lower calorie version of a cheese ball. Reduced fat cream cheese is combined with smoked beef, onion, walnuts and more to create a flavorful and more healthy recipe for this classic game day appetizer.
Jalapeno and Red Pepper Cheese Ball
Recipe from Averie Cooks
Jalapeno and red pepper cheese ball is the epitome of easy game day food. Softened cream cheese is studded with bright green jalapenos, red bell pepper, and cheddar cheese. The top is covered in almonds to add a nice crunch and change of texture.
Bacon, Cheddar and Scallion Cheese Ball
Recipe from Girl Versus Dough
Everyone loves bacon and it is wonderful in this cheese ball, especially when paired with horseradish, scallions, and shredded cheddar. You could serve this the traditional way with crackers or opt for something a little different like sliced cucumbers to balance the richness of the dip. Also, the site has two additional cheese ball recipes (even a dessert one), that is worth checking out.
Image Sources: