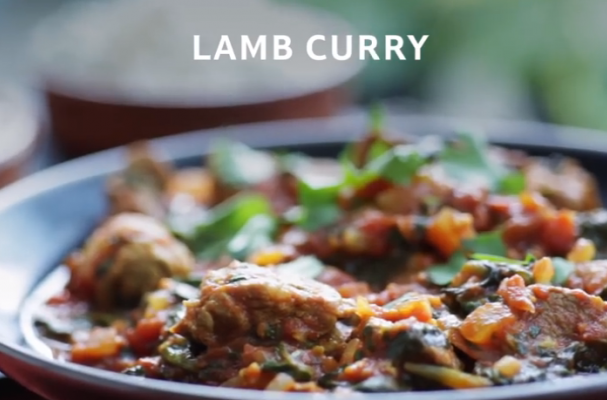 Lamb is popular in the springtime. Lamb chops, lamb roasts, and even lamb curries greet the table at dinner. If you are intimidated by lamb or curry this recipe is perfect for you. Lamb neck is an inexpensive cut that does well when it is cooked for an extended period of time. In this case, the chopped neck filet is seasoned with a variety of warm spices, onions, tomatoes, and green chile peppers. If you prefer a creamier curry, you can always add coconut milk or plain yogurt to the sauce. Just before serving, fresh spinach and cilantro are added to finish the dish.
Lamb Curry with Baby Spinach and Cilantro
Recipe from Tesco Real Food
Ingredients:
2 Tbsp. sunflower oil
1 large white onion, chopped
3 cloves garlic, finely minced
2 cm peeled fresh ginger, finely minced
1 to 3 green chiles, seeds and ribs removed
1 tsp. ground cumin
1/2 tsp. tumuric
6 cardamom pods
1/4 tsp. ground cinnamon
450 grams lamb neck
1 400 gram can chopped tomatoes
200 ml water
300 grams Basmati rice
120 grams baby spinach
3 Tbsp. fresh cilantro
For full recipe instructions, watch the video below.

Image Sources: