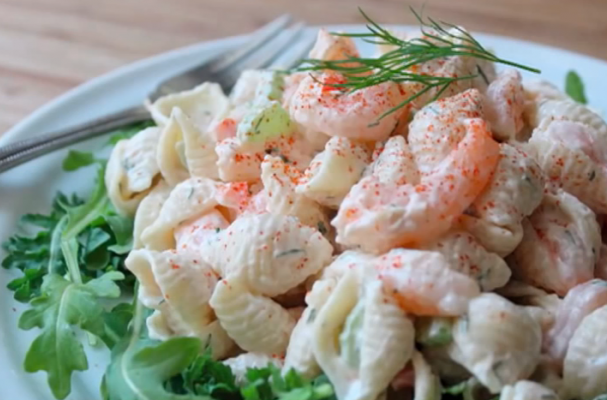 We are getting ready for Memorial Day and pulling out all our favorite barbecue recipes. You can't have a cookout without the accompanying sides. Creamy shells and shrimp salad is a twist on traditional macaroni salad. Sweet petite shrimp are combined with al dente pasta shells and tossed in a mayonnaise dressing. It is important to note that since this salad is mayonnaise based, it should be kept in the fridge and kept out of the sun when serving.
Shells and Shrimp Salad
Recipe from Food Wishes
Serves 8
Ingredients:
For the dressing:
1 1/4 cups mayonnaise
2 tsp Dijon mustard
2 tsp ketchup
1/4 tsp Worcestershire sauce
1 lemon, juiced
1 tsp salt, or to taste
cayenne to taste
1/4 cup chopped fresh dill
For the salad:
12-oz package pasta shells
1 pound bay shrimp, or other small cooked shrimp, drained well
1/2 cup small diced red bell pepper
3/4 cup diced celery
kosher salt and freshly ground pepper to taste
For full recipe instructions, watch the video below.
Image Sources: