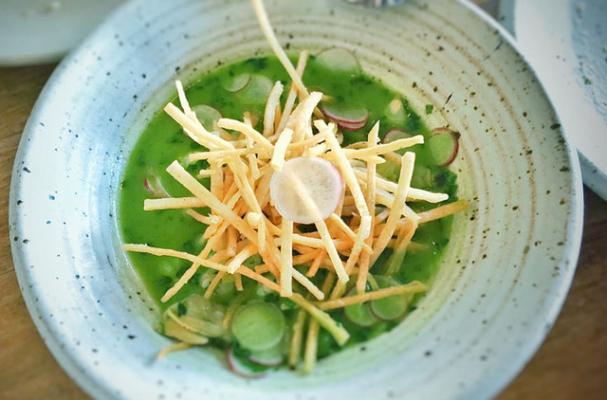 Pozole (or posole) is a traditional Mexican stew made with hominy and meat, typically pork, and garnished with chile peppers and limes. This lighter, green version is a fresh and herby counterpart to the classic red (or rojo) variety most commonly found. Its fragrant broth is a tangy blend of garlic, shallots, tomatillos and cilantro into which pillowy hominy and tender filets of fish are added. Garnish this comforting soup with freshly sliced radishes, spicy chiles, springs of fresh cilantro, and wedges of lime. This soup would also be excellent with shrimp or, for a vegan version, a silky soft tofu (just skip the clam juice).
Green Pozole with Fish and Fresh Cilantro
Adapted from Bon Appétit
Makes 4 servings
2 tablespoons olive oil
2 shallots, chopped
3 garlic cloves, finely chopped
2 serrano or jalapeño chiles (depending on how spicy you want it), thinly sliced (*see note below)
1 1/4 pound tomatillos, husks removed and rinsed
Sea salt and freshly ground black pepper, to taste
1 cup cilantro (leaves and stems), plus more for garnish
1 pound firm white fish, such as cod or halibut, cut into about 2x2-inch portions
1 15-ounce can of hominy, rinsed
1 8-ounce bottle clam juice
3 small radishes, trimmed and thinly sliced
Lime wedges for serving
Optional garnish: crispy corn tortillas broken up or in thin strips
*Many people think the heat of a chile pepper lies in its seeds, but the real heat is contained in the inner white ribs of the pepper. If using a hotter pepper variety, we recommend wearing gloves before you cut and remove the ribs. Otherwise, if you like it hot, leave the peppers whole - seeds and all!
Heat the oil in a large pot over medium. Cook the shallots, garlic and half of the chiles, stirring occasionally, until soft; about 7 minutes.
Meanwhile, purée the tomatillos in a blender until smooth.
Add half of the tomatillo purée to the pot and cook until thickened, about 5 minutes; stir frequently. Season to taste with salt and pepper. Add 1 cup of cilantro (with stems and leaves) to the remaining purée in blender and process until smooth; set aside.
Add fish, hominy, and clam juice to the pot along with a cup of water. Bring to a low simmer and gently cook over medium-low until the fish is opaque and the flesh begins to flake, about 5-7 minutes depending on the thickness of the fish. Take care to not overcook the fish!
Remove from heat and stir in the reserved raw tomatillo-cilantro purée. Season if necessary with salt and pepper.
Divide the stew among four bowls and garnish wit radishes, cilantro, and remaining chile peppers. Serve with lime wedges.
For added texture and crunch, cut 2 corn tortillas into thin strips and bake or grill on both sides until crisp (or bake the tortillas whole). Top each stew with crispy strips or crumbled bits.
Note: the image above is a representation of this recipe.

Image Sources: