This colorful Mediterranean Grilled Chicken Salad from Taste and See is like spring on a plate! The rainbow of vegetables includes yellow squash, zucchini, red onion, cherry tomatoes, and mixed green lettuces, which are dressed in a vibrant basil balsamic vinaigrette dressing and topped with briny feta cheese. It's a great dish for the grilling season or a quick and easy way to use up leftover chicken.
Grilled Mediterranean Chicken Salad
Contributed to Foodista by Taste and See
Ingredients:
For the salad:
2 large chicken breasts
2 small yellow squash
2 small zucchini
1 large red pepper
Salt and pepper
20 Kalamata olives (about 5 per salad)
½ red onion, sliced thinly into rings and separated
10 ounces cherry tomatoes cut in half
4 ounces French Feta, crumbled (regular feta if preferred)
5 ounces mixed lettuce greens
For The Basil Balsamic Vinaigrette Dressing:
1 clove of garlic, minced
1 tablespoon chopped fresh basil
3 tablespoons extra virgin olive oil
1 tablespoon Dijon Mustard
3 tablespoons aged Balsamic Vinegar
Salt and pepper to taste
Click here for the complete instructions!
Check out some more delicious chicken recipes on our Chicken Recipes Pinterest Board here! Here's a snapshot of what you'll find...
Chicken Cacciatore
This classic "Hunter's Chicken" is a year-round favorite in our home. Browned chicken breasts and thighs (we usually just do all thighs in our home) are bathed in a luscious sauce of onion, red bell pepper, garlic, mushrooms, tomatoes, oregano, and white wine, then garnished with a good Parmesan cheese and fresh basil.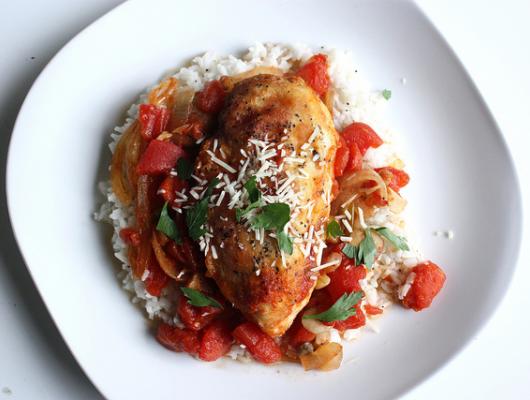 Photo by Allangkelly
Thai Stir-fried Chicken with Cashew Nuts (gluten free)
Contributed to Foodista by DelishPlan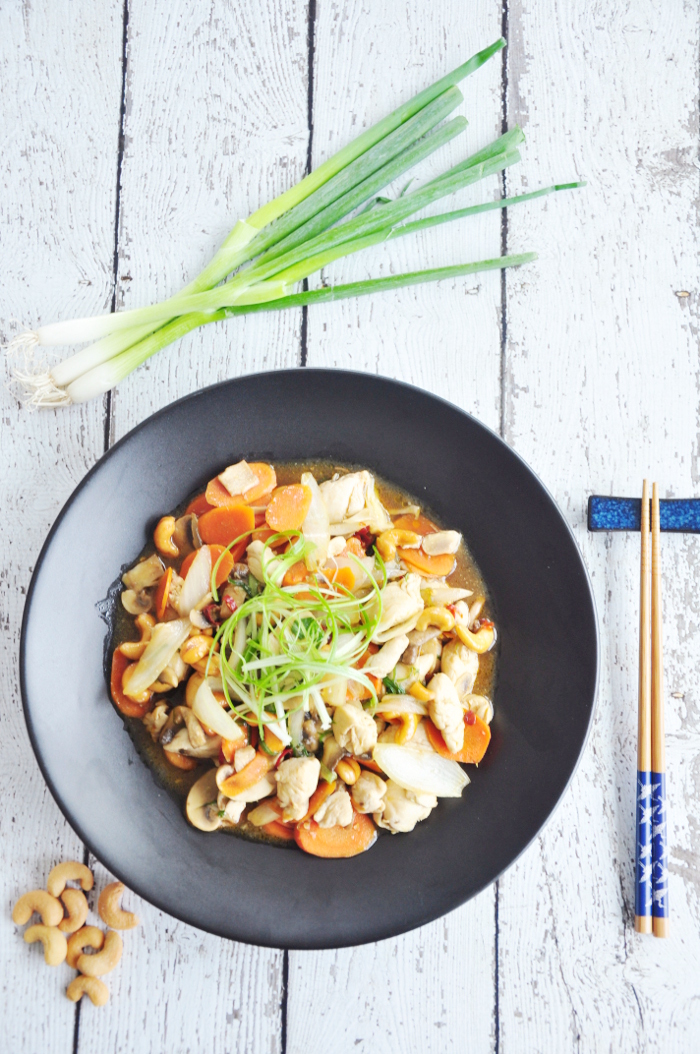 Roasted cashews, carrots, mushroom, spring onion, chile peppers, garlic and chicken are stir-fried in a flavorful combination of oyster sauce, fish sauce, and brown sugar. It's an easy dinner for any night of the week.
Chicken and Green Chile Verde Soup
Contributed to Foodista by Taste and See
This hearty and healthy Mexican-style soup is easy on the waistline (it's low cal and low carb), yet is full of delicous flavor!