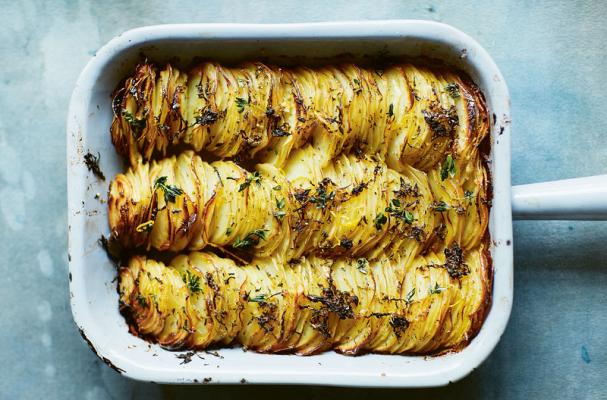 We all love the traditional Thanksgiving staples like turkey, stuffing, mashed potatoes, and cranberry sauce, but what can you eat if you're following a gluten-free diet? Instead of relegating yourself to just enjoying the turkey, here are twelve gluten-free recipes that you'll be happy to make this Thanksgiving.
1. Gluten-Free Stuffing from Delish
Most stuffing recipes call for some type of bread product which puts them out of reach for anyone following a gluten-free diet. The nice thing about this gluten-free stuffing recipe is that it's easy to make, with a base of pre-based gluten-free bread, and it tastes just like the stuffing you know and love. You can bake it separately or, for a more gluten-friendly meal, stuff it into the turkey and let it cook that way. If you want a bit more flavor, since gluten-free bread can be a bit bland, add some ground sausage to the mix!
2. Gluten-Free French Fried Onions from Adventures of a Gluten Free Mom
You can't have Thanksgiving without green bean casserole, and you can't have green bean casserole without those crispy french fried onions on top! Unfortunately, the off-the-shelf ones that you get at the grocery store aren't gluten-free, which means you just need to make your own. These are fairly simple. Just bread your thin onion slices in a blend of gluten-free flours and fry until crispy. Once you've got these ready, making your green bean casserole is a sinch.
3. Cheese-Stuffed Dates with Prosciutto from Food Network
Most of the time, Thanksgiving appetizers are served with things like crackers or bread, but that's problematic for anyone on a gluten-free diet. These appetizers have just the right balance of sweet and savory without any gluten for you to worry about. They're easy to make too — just stuff your dates with cheese, wrap them in a slice of prosciutto and hold it all together with a toothpick.
4. Bloomin Baked Apples from The Gunny Sack
You might be a pecan pie person or someone who prefers apple or pumpkin, but we can all agree on one thing — it's not Thanksgiving without at least one pie. This tasty dessert gives you all the flavors of apple pie without any of the gluten that you'd normally find in the crust or the hassle of finding a gluten-free pie crust recipe. Core your apples and cut them so they'll 'bloom' as you bake them. Then drop a caramel candy in the center, coat with butter and brown sugar, and bake, then top with a scoop of ice cream. (Note: This recipe calls for a teaspoon of flour as a thickening agent. Just replace with your favorite gluten-free flour, and you're good to go.)
5. Gluten-Free Gravy Gluten-Free Palate
A lot of from-scratch recipes utilize flour as a thickening agent, which is problematic if you're working on a gluten-free Thanksgiving dinner, but you can easily make an alternative by switching to gluten-free flour. The trick to making the perfect glutenless gravy is to start with cold ingredients. Otherwise, the flour will clump up instead of dissolving into the gravy, and let's be honest here — no one likes lumpy gravy.
6. Crustless Pumpkin Pie from Delish
Pumpkin pie filling is inherently gluten-free, but once you add the crust in, it starts to present a problem. This pie tastes exactly like regular pumpkin pie because it uses most of the same ingredients. You're just going to want to bake it in a springform pan and bake it like a cheesecake until the center jiggles a little bit, then refrigerate it overnight until it sets. Top it with some whipped cream, and you've got your dessert ready for Thanksgiving.
7. Gluten-Free Cornbread from Food Network
Whether you're making cornbread dressing or just want to enjoy it as a side, you won't be able to tell the difference between traditional and gluten-free cornbread with this recipe. This cornbread uses gluten-free flour mixed with cornmeal. You can even make them dairy-free as well, by substituting non-dairy milk in the ingredients.
8. Spatchcock Citrus Grilled Turkey from Grilla Grills
You don't have to stick to tried-and-true flavors on Thanksgiving, even with your turkey. This recipe pairs herbed butter with the sharp flavors of your favorite citrus fruits for a truly unique and flavorful Thanksgiving dinner. Cook it on the grill, and the smoke will add an extra level of flavor.
9. Glazed Leeks with Pine Nut Salsa Verde from Bon Appetit
If you're looking for gluten-free side dishes for your next Thanksgiving meal, don't restrict yourself to gluten-free versions of the classics. This recipe, which pairs roasted leeks that are drowned in a mixture of chili, honey, and vinegar with a nutty salsa verde, will blow your mind, and you'll have people asking you to bring to every family gathering and work potluck.
10. Crock-Pot Sweet Potato Casserole from Delish
Sweet potato casserole is naturally gluten-free, but you don't have to spend all day slaving over a hot oven to enjoy this tasty treat. Let your crock-pot do the work for you. All you have to do is dice the potatoes, mix the ingredients, then sit back and enjoy the fruits of your labor in a few hours. If you prefer to have that broiled-marshmallow topping, just move your casserole to an oven-safe dish once it's done the cooking, top with marshmallows and broil until done.
11. Shingled Sweet Potatoes with Harissa from Bon Appetit
You don't have to go with the stereotypically tooth-rotting sweet potato casserole. This tasty dish might take a bit more prep, but it pairs the natural sweetness of sweet potatoes with vinegar, harissa paste, and pistachios to make a dish that your relatives will write home about.
12. Gluten-Free Cinnamon Rolls from Iowa Girl Eats
No one wants to spend all morning cooking breakfast for the household just to turn around and spend the rest of the day cooking dinner. These super yummy cinnamon rolls are gluten-free, easy to make and freeze in advance and bake up in just 20 minutes. If you've got any leftover, toss them in the fridge — they reheat beautifully!
Whether your gluten-free diet is a medical necessity or a choice, hopefully, these recipes will make your holiday meal a little bit happier.
Have a Happy Thanksgiving!