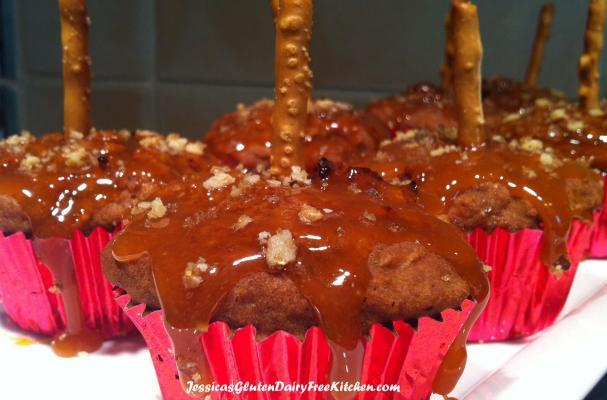 Caramel apple cupcakes are a gluten-free dessert. Moist cinnamon apple cupcakes are topped with a rich caramel sauce. This recipe can also be made vegan and dairy free by substituting the egg for flaxseed meal mixed with water. These fall flavored cupcakes are the perfect sweet treat for the season.
For Cupcakes:
1 1/4 cups Bob's Red Mill Gluten Free Quick Cooking Oats
1 1/8 cups Bob's Red Mill All Purpose Flour
1/2 cup tapioca starch (I use all Bob's Red Mill gluten free flours)
1/4 cup sweet white rice flour
1 1/2 teaspoons baking soda
1 teaspoon ground cinnamon
1/2 teaspoon ground nutmeg
3/4 teaspoon salt
2 medium apples, cored, grated
3/4 cup light brown sugar plus 2 tablespoons
1 large organic egg
2 tablespoons lemon juice (1/2 a lemon)
1 cup coconut or almond milk
1/3 cup sunflower or vegetable oil
3 tablespoons applesauce
3/4 cup raw walnuts, chopped
Vegan Option: 1 1/2 tablespoons flaxseed meal (Bob's red Mill) plus 2 tablespoons water
For Caramel:
3/4 cup sugar plus 1 tablespoon
1/4 cup water
5/8 cup vanilla flavored coconut milk (So Delicious brand)
1/2 tablespoon Earth balance Soy Free Spread
Note: You will need a candy thermometer (I use Wilton brand)
For Sugared Walnut Crumble:
1 teaspoon of brown sugar
2 tablespoons of crushed walnuts
Directions:
Preheat oven to 350 degrees F
Line muffin pan with cupcake liners, I used shiny red ones.
Add coconut milk or almond milk to a measuring cup, add lemon juice. This will create a "buttermilk". Set aside.
Put the oats into a bowl and pour 1/2-3/4 cups of hot water, mix. The oats will absorb the water. Set aside.
Core and slice the apples in half. I rub a cut lemon on the cut sides of the apples to slow oxidation (that quick brown color). Grate the apples, I use a box grater.
Place all the flours, baking soda, cinnamon, nutmeg, brown sugar, salt into a bowl and combine well. Add the walnuts to the dry mix. Stir to coat well.
In a small bowl combine oil, egg, and applesauce, add this to the "buttermilk" mixture.
*Vegan Option: Combine 2 tablespoons water with 1 1/2 tablespoons flaxseed meal in a small bowl, stir to mix well. Add to the oil and applesauce.
Now add the wet mixture to the dry mixture, mix with a rubber mixing spatula until all the ingredients are combined.
Add the grated apples and oats, fold into the batter.
Use a 1/3 cup measuring spoon to scoop batter into cupcake liners all the way to the top. Evenly add any remaining liquid in the bowl to each cupcake.
Bake cupcakes for 25-30 minutes, until a toothpick inserted in the center comes out clean and cupcakes are golden brown.
Let it cool on a cooling rack to room temperature.
In a medium heavy bottomed saucepan set on medium low heat, add sugar and water, do not stir. Place a candy thermometer in the saucepan. When it begins to boil raise the heat to medium high.
Stage 1. will still look clear.
Stage 2. beige, temperature should reach 220 degrees F
Stage 3. brown, temperature should reach about 280-290 degrees F watch the candy thermometer at this stage, sugar can go over 350 degrees F quickly, and burn.
Stage 4. dark amber brown, temperature will reach 350 degrees F.
Turn off heat. Slowly pour in the coconut milk, it will boil violently, which is normal. Wear gloves, if desired.
Turn the heat back on medium, add the margarine, stir briskly until caramel has become smooth and glossy, 2-3 minutes.
Let cool for a few hours. It will thicken as it cools.
Take about a spoonful of cooled caramel and pour over the cooled cupcakes starting in the middle then around. Make sure they are cooled otherwise it will drip right off the cupcakes.
Add a gluten free, dairy free pretzel stick into the center.
Combine ingredients, microwave for 15 seconds, let it cool, then garnish over caramel.
Image Sources: