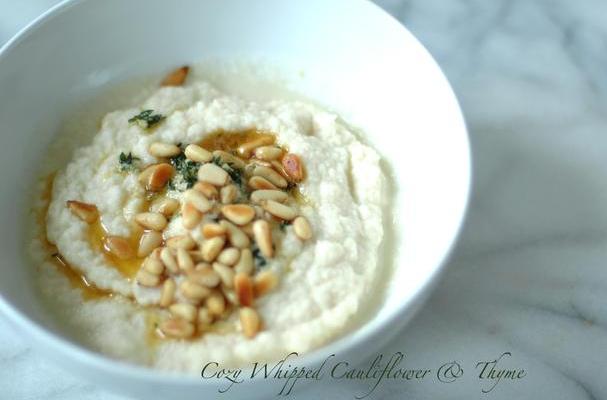 This whipped cauliflower recipe is so simple and fabulous that you can serve it for dinner topped with toasted pine nuts and a vibrant salad (like this Kale Salad with Cranberries and Walnuts) or simply use it as an alternative to a whipped potato in a side dish.
Cozy Whipped Cauliflower & Thyme
Serving Size: 4 (150 calories per serving)
Personalize this dish with slightly more or less butter and salt as you see fit. I thought three tablespoons of butter was just about right for me. And if you don't have pine nuts, I think slivered almonds would also be nice here.
Ingredients
1 medium head cauliflower

4 sprigs fresh thyme, stems removed

drizzle of milk (I used an almond milk), or water

1-3 tablespoons butter

pinch sea salt, pepper

1/4 cup pine nuts
Better-for-you ingredients
Learn more about the better-for-you ingredients in this recipe:
Cauliflower – Cauliflower is rich in vitamin C which helps to support a healthy immune system and assists with detoxification. Cauliflower also contains a good amount of fiber, folate, and B vitamins (which among many things help to keep you energized!).

Directions
Wash and cut cauliflower into small pieces.
Simmer cauliflower in a large pot with water until fork tender, about 8 – 10 minutes.
Remove cauliflower from pot and place into a food processor (or high powered blender) with a splash of milk or water and a tablespoon of butter. You'll want just enough liquid to make the blades turn. Purée until smooth. Set aside.
Toast pine nuts in a dry skillet over medium heat until just brown. Set aside.
Using the same skillet over low heat, melt one tablespoon of butter with the thyme leaves until just fragrant (about 1-2 minutes).
Pour cauliflower purée into a mixing bowl and drizzle the warm butter and thyme over the top. Serve with a sprinkle of nuts. Enjoy!