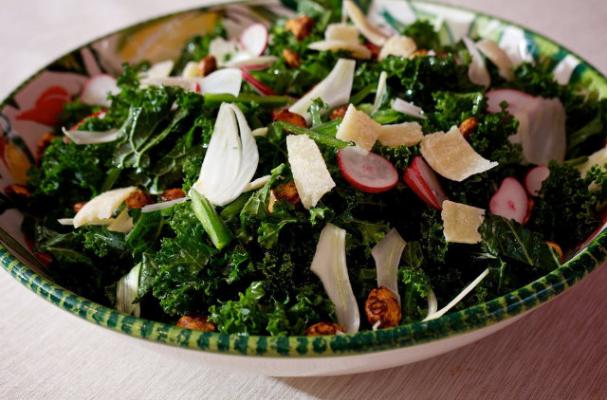 Make your own kale salad, dressing and all, in 25 minutes. This recipe comes to us from the White House -- it was included in the Obamas' Thanksgiving dinner menu. All of the ingredients were harvested right on the White House lawn.
This kale salad recipe is already easy to make, but you can make things even easier by doing some of the prep work beforehand. You can make the dressing and store it in an airtight container in the fridge for up to two days. Just whisk it up before serving.
White House Kale Salad
Ingredients:
- 1 medium shallot, minced
- juice from two medium lemons
- 1/4 cup red wine vinegar
- 1 cup olive oil
- salt, to taste
- freshly ground pepper, to taste
- 2 bunches young kale, washed, spun dry, stacked and cut into thin slices
- 1 bulb fennel, cored and thinly sliced
- 4 radishes, trimmed and thinly sliced
- 2 jalapeno peppers, stemmed, seeded and thinly sliced
- 1 scallion, trimmed and thinly sliced
- 4 ounces Parmigiano-Reggiano cheese, shredded
- 4 ounces spiced marcona almonds
Check out the rest of this White House Kale Salad recipe here.
Image Sources: