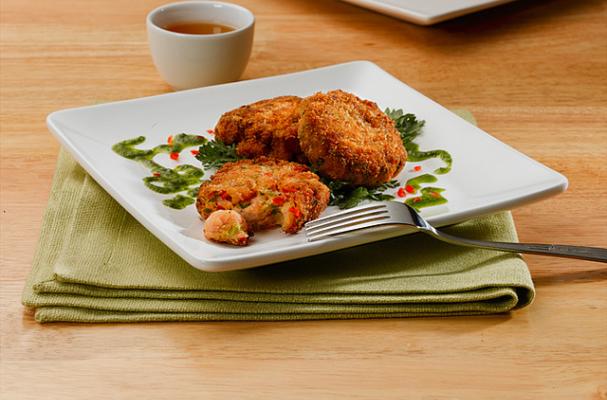 Shrimp is as delicious as it is easy and versatile. It's excellent grilled, sautéed, tossed in pasta or salads - the preparations are endless. Not only is shrimp easy to cook but it's easy to purchase sustainably. As a native Oregonian, I'm celebrating this pink crustacean by sharing this fantastic Oregon pink shrimp cakes recipe with you.
The Oregon pink shrimp fishery was recently re-certified as sustainable by the Marine Stewardship Council. The Marine Stewardship Council is the international leader in defining, certifying and promoting sustainable seafood. When purchasing seafood look for the MSC blue eco-label to ensure that what you're buying is sustainable. Products are widely available at supermarkets across the country and at other major retailers - even McDonalds!
Oregon Pink Shrimp Cakes with Wasabi Tartar Sauce
Recipes courtesy of Gary Puetz, the Seafood Steward
1-1/2 pounds Oregon pink shrimp (DO NOT WASH)
1 cup plain bread crumbs
2 celery stalks, finely minced
1 small onion, finely minced
1 small green pepper, finely minced
1 teaspoon dry mustard
½ teaspoon Tabasco
1 large egg
¼ cup mayonnaise
1 tablespoon lemon juice
½ teaspoon Worcestershire sauce
Additional bread crumbs for coating the cakes
½ cup oil for frying (or more as needed)
Combine all ingredients except the breadcrumbs for coating and the oil for frying.
Form the mixture into 8 1" thick cakes. Coat cakes on both sides with the additional breadcrumbs, patting the crumbs lightly into cakes.
Preheat 10" to 12" sauté pan over medium heat. Add 1/4 cup oil. Cook 4 cakes at a time, 4 minutes per side. They should be nicely browned on both sides and heated through. Keep the cooked cakes warm in the oven while you prepare the remaining 4. Use fresh oil for the second batch.
Wasabi Tartar Sauce
¾ cup sour cream
¾ cup mayonnaise
3 tablespoons fresh ginger, grated
1 tablespoon fresh garlic, finely minced
1 tablespoon white vermouth
1 tablespoon sesame oil
1 teaspoon lime zest
1 tablespoon lime juice
2 teaspoons Wasabi paste (jalapeno pepper, finely minced can be substituted)
Use food processor to puree ginger, Wasabi, garlic, vermouth, sesame oil, lime juice and zest. Puree for 3 minutes.
Add mayonnaise and sour cream and process until smooth.
Editorial disclosure: Foodista received no payment for this article.