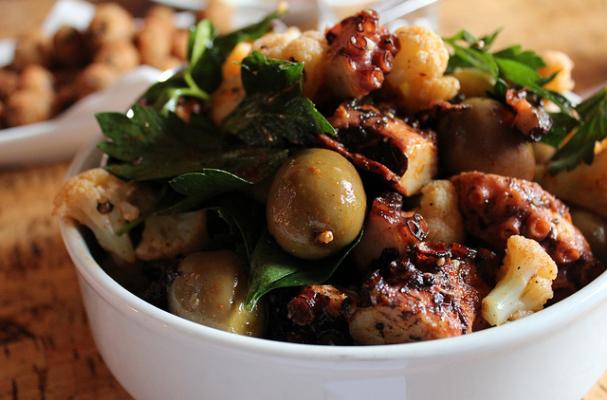 We don't eat nearly enough octopus in the U.S. which is a shame because, when done properly, it's deliciously tender and succulent. Unfortunately, all too often it isn't cooked long enough, resulting in eraser-like morsels. In this recipe, Seattle chef Ethan Stowell simmers his octopus in white wine and aromatics for an hour and a half until tender (the thickest part should yield slightly to a fork or knife when pierced) then refrigerates it overnight. He then grills the octopus and combines it with blanched cauliflower florets, fresh herbs, Spanish Gordal olives, smoked paprika and simply dresses it with olive oil and red wine vinegar. This perfect-for-any-season salad packs a flavorful punch and will wow your guests!
Grilled Octopus with Cauliflower, Gordal Olives, Pimentón
Courtesy of Ethan Stowell and Olives from Spain
This dish was served as part of a multi-course olive-themed tasting menu at How to Cook a Wolf restaurant in Seattle. Get all the recipes here.
1 whole 2-pound octopus
1 carrot
1 onion
1 rib celery
4 cloves garlic
1 teaspoon black peppercorn
Ingredients for Salad:
1 cooked octopus
1 head cauliflower, broken into small pieces and blanched
1 cup loosely packed parsley leaves
½ cup extra virgin olive oil
1/8 cup red wine vinegar
1 T chopped fresh oregano
About 20 Gordal olives
1 teaspoon smoked Spanish pimentón (paprika)
Salt and pepper
To complete Octopus:
Rinse the octopus thoroughly under cold running water. Add all ingredients to a pot large enough to hold everything. Cover with cold water, bring to a boil, reduce to a simmer and cook until octopus is tender, about 1.5 hours. Once tender, place entire pot in the refrigerator to cool, preferably overnight. Once octopus is cold, remove from liquid and pat dry. Store in the refrigerator until ready to grill.
To complete Salad:
Preheat a grill to high.
In a large bowl combine the Gordal olives, cauliflower, parsley, olive oil, vinegar and oregano. Season to taste with salt and pepper. Set aside to marinate.
To complete Dish:
Brush the octopus with more olive oil and place on the hot grill. Grill, turning often, until the octopus is slightly charred all over, about 5-7 minutes. Remove from the grill and chop into bite sized pieces and add to the rest of the salad. Mix thoroughly and spoon onto a serving platter. Sprinkle the pimentón over everything and serve.
Categories: