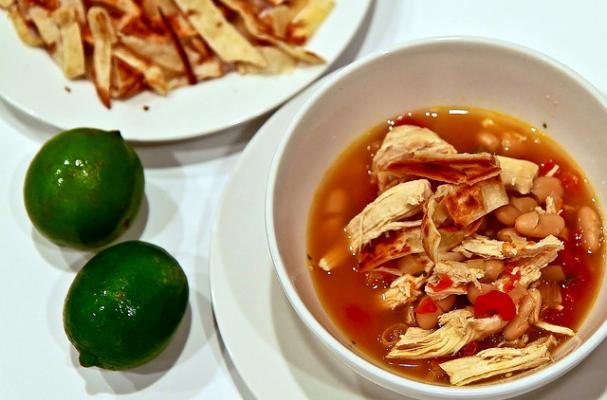 This satisfying and spicy one pot soup is the perfect easy dinner for any night of the week. The addition of fresh lime juice adds brightness to this already tasty soup. All you need are a few simple ingredients and in minutes you'll have a healthy, delicious meal!
Tortilla Lime Chicken Soup (aka Chicken Soup to Spice Up the Soul)
Submitted to Foodista by Sara
Serves 8
3 tablespoons vegetable oil
3 tortillas, sliced into 1/4" strips
32 ounces container organic low-sodium chicken stock
Juice of 2 limes
1 can diced tomatoes with green chilies and juice
1 can pinto or cannellini beans (rinsed)
1 large onion, diced
1/2 teaspoon salt (or to taste)
1/4 teaspoon pepper (or to taste)
2 chicken breasts
Heat oil in a large pot on the stove one medium-high (the same pot will be used to make the soup later).
Add tortilla strips and stir constantly until they brown slightly and start to crisp. Remove from heat and set aside.
To a large stock pot, add chicken stock, lime juice, tomatoes & juice, beans, onion, salt & pepper and heat to medium-high.
Sink chicken breasts into broth, cover, turn heat down to med-low an walk away (that's the best part)!
Leave soup to simmer for 30 minutes. Remove chicken breasts to a cutting board. Pull chicken apart with 2 forks into bite sized pieces. Return to soup.
Serve topped with tortilla strips and a dollop of sour cream!