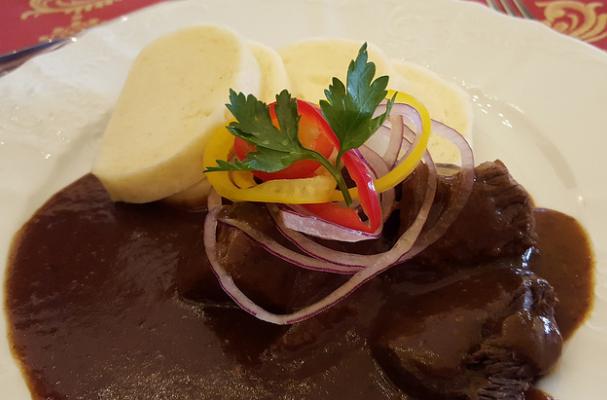 The last stop on our Cities of Light European Viking cruise was the historic city of Prague, the capital city of the Czech Republic. Our afternoon excursion took us to the Lobkowicz Palace, the only building in the Prague Castle complex still owned by the Lobkowicz royal family and home to the acclaimed Lobkowicz Collections and Museum and Midday Classic Concert. Before our tour of the family's collection, known as one of the finest collections of Spanish portraits outside of Spain and includes work by masters such as Diego Velázquez, we sat down in a beautifully appointed private room for a multi-course lunch. Our main course was a Czech-style beef goulash (a classic shepherd's dish heavily seasoned with paprika) with traditional bread dumplings, a tender dumpling that is more akin to soft, sliced bread than the doughy round ones typically found in the U.S. In addition paprika, a key ingredient in goulash, the Palace's version of the dish was generously seasoned with caraway, adding an unexpected and pleasant flavor to the dish. Below is our version of this easy and comforting beef stew. Add as much or as little caraway as you see fit (you can add it while the stew simmers).
With our bellies full and satiated, we sat down to a private concert performed by three musicians from the city's symphony. Seated in a room filled with priceless art and furniture, listening to Hayden, Mozart, Beethoven, Schumann and Dvořák, I felt like a princess. All that lacked was the regal dress.
Lobkowicz-Style Beef Goulash with Traditional Czech Bread Dumplings
Recipes are adapted from Martha Stewart and The Best Imperial Recipes (a cookbook from the Lobkowicz Palace in Prague)
Pair this dish with some classical music from one of the above artists and you'll be transported to the Lobkowizc Palace.
Ingredients:
1/4 cup unsalted butter
1/4 cup olive oil
5 pounds beef chuck, rump or brisket, well trimmed and cut into 2-inch cubes
A generous amount of ground coriander, to taste
Salt and freshly ground black pepper
5 pounds yellow onions, chopped
1/4 cup Hungarian paprika
3 cups beef stock
Garnish with thin slices of red onion, red and yellow pepper and a sprig of parsley.
Directions:
Heat 1 tablespoon butter and 1 tablespoon olive oil in a large skillet over high heat. Season meat with ground coriander, salt and pepper. Depending on the size of your skillet, you may need to cook beef in batches to prevent overcrowding. Cook beef until well browned on all sides, about 3 to 5 minutes, and transfer to a plate.
Remove beef from the skillet, reduce heat to low, then add the onions. Cook, stirring occasionally, until onions are translucent, about 15 to 20 minutes. Return meat to the skillet, and add paprika and stock. Stir well to combine.
Cook, covered, over very low heat, stirring occasionally, until meat is tender and the sauce has thickened, about 1 1/2 to 2 hours. Adjust seasonings if necessary.
Serve with bread dumplings (recipe below), potatoes or wide egg noodles.
Traditional Czech Bread Dumplings
4 cups all-purpose flour
1/4 teaspoon baking powder
1 teaspoon salt
2 large egg yolks
1 1/2 cups milk
10 slices white bread, crusts removed, and cubed into 1/2-inch pieces
In a large bowl, whisk together flour, baking powder, and salt; set aside.
In a separate medium bowl, whisk together egg yolks and milk; add to the flour mixture. Mix the dough with your hands or with a standing mixer with the dough hook attached until it no longer sticks to the bowl. Cover the dough and let rest for 1 hour.

Bring a large stockpot of salted water to a gentle boil.
Add the bread cubes to the dough and mix until well incorporated. Using floured hands, shape the dough into rolls that are about 2 1/2 inches in diameter and about 8 inches long. When the water is boiling, carefully slip the rolls into the water, giving them a stir so they don't stick. Reduce heat, cover and cook 10 to 15 minutes.

 Using a slotted spoon, remove one dumpling from the pot after 10 minutes. Test for doneness by cutting through the middle of the dumpling with a knife (the knife should be clean). If done, remove the dumplings and slice into 1/2-inch-thick pieces.
To serve, fan a few pieces of dumpling out onto a plate and serve with the goulash.
Categories: