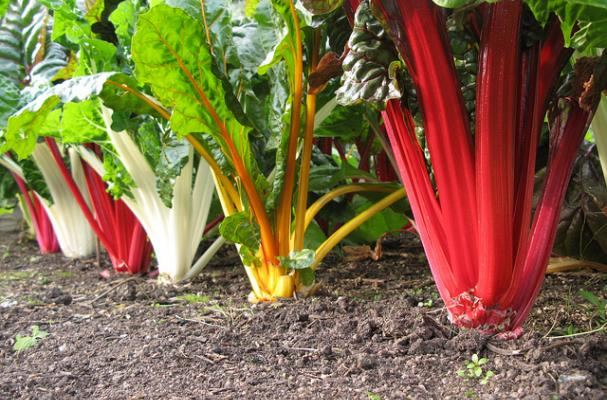 The garden is bright with Rainbow chard this week. Finally, there is enough growing that it can stand alone as the main part of a dish.
I do try to make greens with every meal, but it isn't always easy to come up with different ideas after weeks of serving it. Here are 5 recipes that make swiss chard the main focus, offered by Foodista readers. Do you have a favorite way to eat this flavorful veg, that is not listed here? Send it in!
Gratin of Swiss Chard Stems
This lovely recipe makes use of the stems only. I love to see that. Usually, I just cut up the stems and throw them in not to be wasteful. Silly me.
Lentils With Sausage and Swiss Chard
For hearty fare, try combining these three ingredients into something spectacular !
Baked Cheese Polenta With Swiss Chard
Heavenly. Polenta is another food that really needs to become a regular part of our diet. This is a great way to introduce your family to it!
Vidalia Onion Pizza With Bacon and Chard
Sometimes it is easy to forget that chard makes a great substitute for just plain spinach. Of course, this recipe had me at Pizza.
Ravioli Genovese
After enjoying a dinner of pasta, I couldn't resist sharing this delectable recipe. Remember that making pasta is really simple! This filling will make it sing!
Image Sources:
Categories: