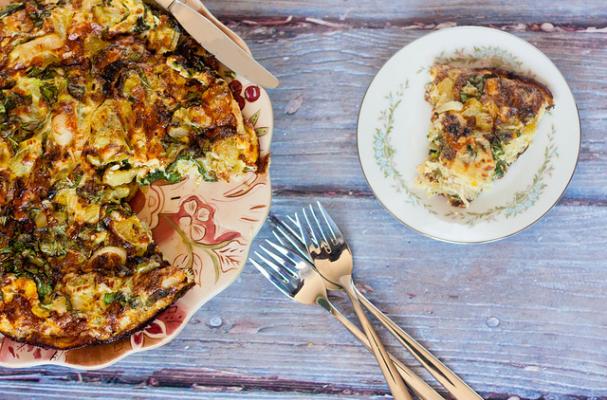 Green tomato and leek frittata is the perfect dish for Meatless Monday. You can eat this dish for any meal of the day. Essentially, a frittata is a baked omelet. You can add whatever ingredients you want as you would to a stovetop omelet. Green tomatoes are simply unripe red tomatoes and must be cooked. Once they have been exposed to heat, the green tomatoes become piquant and delicious. This frittata is a great recipe to kick off the tomato season.
Green Tomato and Leek Frittata
(recipe from Cooking Books)
Ingredients:
Olive oil for the pan
3 large leeks, trimmed of the green part, washed, and thinly sliced
3 medium green tomatoes, chopped
1 1/2 teaspoon salt
1/4 teaspoon fresh pepper
4 large eggs
1/4 cup grated Parmesan cheese
1/2 cup fresh basil leaves, torn
2 large egg whites
Directions:
Heat your oil in a large, ovenproof sauté pan over a medium flame. Add the leeks and cook until they're soft and golden, about 7 minutes. Add the tomatoes and season with 1/2 teaspoon salt and half of the pepper. Cook until the tomatoes are tender, about 3 minutes more. Set aside for a moment to cool.
At this point, preheat your broiler. Beat the 4 large eggs lightly with a fork in a large bowl, then add the leek and tomato mixture to the eggs. Add the rest of the salt and pepper, the cheese and the basil. Stir gently to combine the ingredients.
In another bowl, whip the egg white until stiff but not dry and then fold the white, a 1/4 at a time, into the vegetable mixture.
Return the sauté pan to medium heat and add in a bit more oil to coat the bottom of the pan. When the oil is warm, pour in the egg mixture, reduce the heat to low, cover, and let cook for about 6 minutes. The frittata should start to thicken, but still be a bit runny in the center.
Uncover the frittata and transfer the pan to the broiler. Depending on the heat of your broiler, broil for anywhere from 2-4 minutes, until the frittata is set but not overly browned. Remove from the broiler, cut into slices and serve either hot or at room temperature.
Image Sources: